Quincy Jones spills the tea on Michael Jackson, the Clintons and more in new interview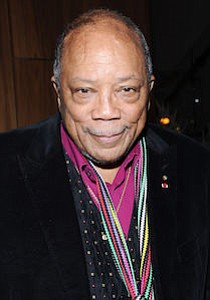 In a rambling interview with Vulture, music impresario Quincy Jones spoke candidly about a variety of topics, from his friendship with Hillary Clinton ("there's a side of her — when you keep secrets, they backfire") to who killed John F. Kennedy. That would be Chicago mobster Sam Giancana, according to Jones.
He also called The Beatles the "worst musicians in the world" and described rock and roll as a "white version of rhythm and blues."
"All I've ever done is tell the truth," Jones told Vulture. "I've got nothing to be scared of, man."
One of the most jaw dropping "truths" came out when Jones was asked about his relationship with the late music icon Michael Jackson. Jones, 84, who produced Jackson's "Off The Wall" and "Thriller" albums, called the King of Pop a "greedy" song thief and said he never understood Jackson's penchant for plastic surgery.
"I hate to get into this publicly, but Michael stole a lot of stuff. He stole a lot of songs," Jones told Vulture. One of the songs he alleges Jackson stole was Donna Summer's "State of Independence," which has a similar bass riff to Jackson's monster hit "Billie Jean." According to Jones, he produced Summer's version and Jackson provided backing vocals, which is how Jackson became familiar with the song.
"The notes don't lie, man. He was as Machiavellian as they come," said Jones.
Jones also said Jackson had a problem with the way he looked.
"I used to kill him about the plastic surgery, man. He'd always justify it and say it was because of some disease he had. Bullshit," said Jones. "He had a problem with his looks because his father told him he was ugly and abused him."
Jones, who turns 85 in March, will soon be the subject of a Netflix documentary and a CBS special hosted by Oprah Winfrey.
Follow me on Twitter @ShondaMcClain.