Senate negotiators working to finalize long-term budget deal
Andrew Taylor, Associated Press | 2/7/2018, 10:15 a.m.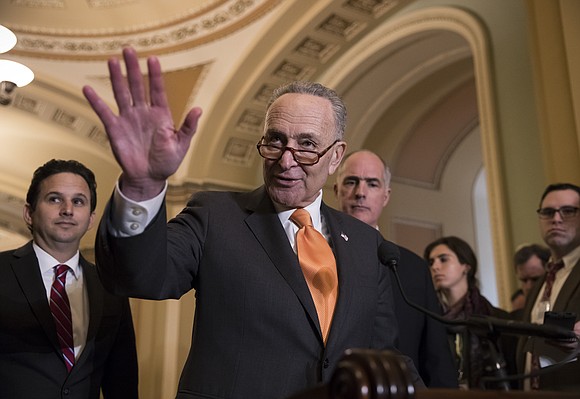 WASHINGTON — Senate negotiators were finalizing a long-term budget deal Wednesday that would avert a looming government shutdown, as a leader of House conservatives predicted the group's objections to big domestic spending increases would not be enough to block it.
Rep. Mark Meadows, R-N.C., leader of the hard-line House Freedom Caucus, said he opposes the emerging bipartisan deal, which could be unveiled Wednesday, but he has few hopes of scuttling its passage. Spending increases will appeal to many lawmakers, Meadows said.
"I'm afraid the numbers will get so high and the debt ceiling will be added and it will be a Christmas tree of spending — that a lot of votes will be bought," he said on MSNBC. Meadows' group backs big defense increases but opposes boosting domestic spending.
The deal was picking up steam even as the president appeared to be readying for a standoff.
"I'd love to see a shutdown if we can't get this stuff taken care of," Trump declared Tuesday.
Trump's comments were strikingly disconnected from the progress on Capitol Hill, where the House passed a short-term spending measure Tuesday night and Senate leaders were closing in on a larger, long-term pact. The broader agreement would award whopping spending increases to both the Pentagon and domestic federal programs, as well as approve overdue disaster relief money and, perhaps, crucial legislation to increase the government's borrowing limit and avoid possible default.
Democratic leaders have dropped their strategy of using the funding fight to extract concessions on immigration, specifically on seeking extended protections for the "Dreamer" immigrants who have lived in the country illegally since they were children. Instead, the Democrats prepared to cut a deal that would reap tens of billions of dollars for other priorities — including combatting opioids — while taking their chances on solving the immigration impasse later.
Tuesday night's 245-182 House vote, mostly along party lines, set the machinery in motion. The six-week stopgap spending bill contains increases for the military that long have been demanded by Trump and his GOP allies. But the measure appears increasingly likely to be rewritten by the Senate to include legislation implementing the brewing broader budget pact.
The budget negotiations, conducted chiefly by the Senate's top leaders, Republican Mitch McConnell of Kentucky and Chuck Schumer of New York, have intensified in recent days. A looming government shutdown at midnight Thursday added urgency to the talks.
Both McConnell and Schumer reported progress Tuesday.
"I think we're on the way to getting an agreement and getting it very soon," said McConnell.
Prospects for dealing with immigration, however, were fuzzy as ever. The Senate is slated next week to begin a debate to address the dilemma of immigrants left vulnerable after Trump cut off former President Barack Obama's Deferred Action for Childhood Arrivals program, or DACA.
Weeks of bargaining have left the two parties divided over how to extend protections for such Dreamer immigrants. Trump has given lawmakers until March 5 to extend DACA, though a court ruling is temporarily keeping the program running.