Foles outduels Brady to give Eagles their first Super Bowl
Josh Dubow, AP Pro Football Writer | 2/5/2018, 2:10 a.m.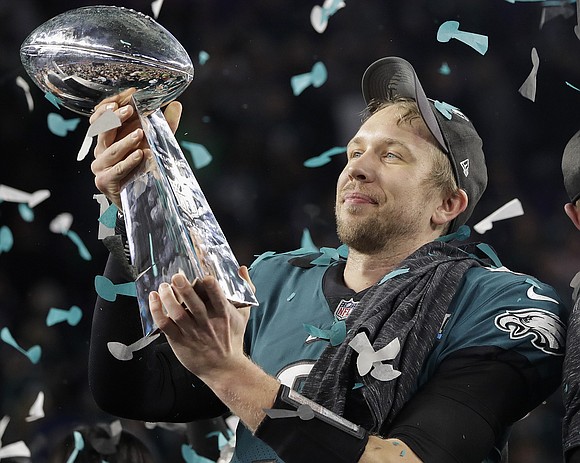 "When the fourth quarter came we had to go out there and make a stop," Graham said. "As a defense we hadn't been doing it all game. The offense carried us all the way through. At the end of the day we kept coming."
Jake Elliott tacked on a field goal and the game ended when Brady's desperation heave to the end zone fell to the turf, sending the Eagles out on the field in celebration and Brady to the ground in despair.
"I don't think anyone wallows on our team," Brady said. "We're a competitive team. Played hard. Didn't make enough plays or score enough points."
The questions after the game immediately turned to the future with Foles expected to return to the backup role when Wentz is healthy. In the other locker room, Brady was asked if he would come back for another run at age 41.
"I expect to be back," he said. "It's 15 minutes after the game ended, so I would like to process this. I don't see why I wouldn't be back."
Brady did just about all he could to win the game, with his most glaring miss coming as a receiver on a trick play in the first half when he dropped a pass from receiver Danny Amendola.
Foles topped him in that role with his touchdown late in the first half that made him the first player to catch and throw a TD pass in the same Super Bowl.
On fourth down from the 1, Foles motioned into the slot, while rookie Corey Clement took a direct snap. Clement pitched to tight end Trey Burton, a former quarterback at Florida. Foles slid into the right side of the end zone, uncovered and caught the touchdown on a play coach Doug Pederson calls "Philly Special."
"Yeah, that was something we've been working on, and Doug and I were talking, and he was like, 'Let's just run it.' It was a good time," Foles said. "And the end was a little wider than I thought, so I was like, 'I really need to sell like I'm not doing anything.'
"And it worked, Trey made an amazing throw. I just looked it in and, yeah, we've repped it for a while, so I was excited to get it run in the Super Bowl."
That gave the Eagles a 22-12 halftime lead but Brady led three straight second-half touchdown drives — two to Gronkowski. Foles kept pace with a 22-yard touchdown pass to Clement and another drive for a field goal that kept the Eagles in it until the dramatic finish.
"It kind of felt like whoever had the ball last could win this game, and we were just fortunate enough to put ourselves in a position to end the game with that drive for the touchdown," coach Doug Pederson said. "Our defense stepped up and did a nice job to finish it for us."
All that was left was the celebration and yet another rendition of "Fly Eagles Fly." -- (AP)