Foles outduels Brady to give Eagles their first Super Bowl
Josh Dubow, AP Pro Football Writer | 2/5/2018, 2:10 a.m.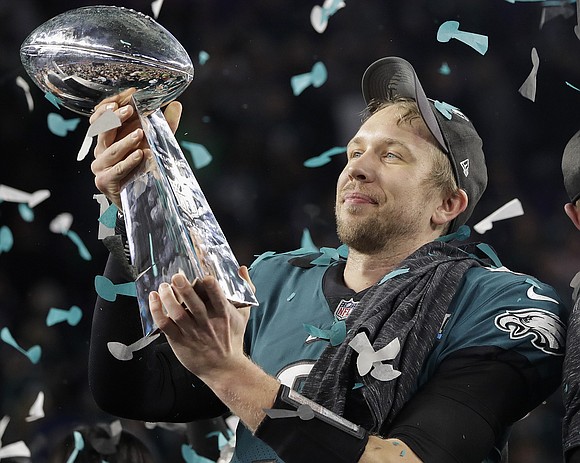 MINNEAPOLIS — Nick Foles did his best Tom Brady impersonation, leading a late-game comeback to cap a season that began as a backup and ended as Super Bowl MVP.
Foles' journey mirrored Brady's 16 years ago and ended late Sunday night, with green-and-white confetti falling as delirious Philadelphia Eagles fans celebrated their first NFL title since 1960.
No quarterback has gone from backup to title game MVP in one season since Brady replaced Drew Bledsoe in the 2001 season. Foles topped the 40-year-old Brady, football's greatest winner, in the most prolific offensive game in NFL history, with the Eagles defeating the favored New England Patriots 41-33.
Foles finished it off by engineering the type of game-winning drive that made Brady famous, and he watched his defense stopped Brady to seal the victory and the Eagles first Super Bowl — their earlier titles came before the Super Bowl era.
"The stage was never too big for him all year," said Zach Ertz, who caught the game-winning 11-yard touchdown pass from Foles with 2:21 remaining. "To get in a shootout with that guy on the other team is probably not ideal for anyone ever. The guy is the best quarterback to ever play the game."
But on this night Brady played second fiddle to Foles despite throwing for a playoff record 505 yards. Foles was nearly as prolific with 373 yards and three touchdown passes and also caught a TD pass for the Eagles (16-3). Brady dropped his own chance at a reception on a trick play by the Patriots (15-4).
That all added up to Foles becoming the first backup quarterback to win the Super Bowl since Brady beat two-time NFL MVP Kurt Warner to win his first title 16 years ago.
Brady never gave up the job he got after Bledsoe got hurt early that season. He has gone on to win a record five Super Bowl titles. After throwing his third touchdown pass, to Rob Gronkowski, with 9:22 to play to give the Patriots their first lead of the game, he seemed poised for a sixth.
That's when Foles stepped up with the drive of his life to give Philadelphia its first Super Bowl title in a season many wrote off after Carson Wentz injured his knee in Week 14.
Foles drove the Eagles 75 yards, converting a fourth-and-1 with a 2-yard pass to Ertz near midfield and then capping it with the pass to Ertz that needed to survive a replay review to make sure Ertz held onto the ball long enough for a score.
"It doesn't get any bigger than this, but I felt good," Foles said. "I felt calm. I think the big thing that helped me was knowing that I didn't have to be Superman. I have amazing teammates."
One of those teammates delivered the key defensive play on a night when the offenses combined for 1,151 yards — the most in any modern NFL game. With Brady poised to lead one of his memorable comebacks, Brandon Graham knocked the ball out of his hand for a fumble that rookie Derek Barnett recovered with 2:09 to play.