Murphy sticks to tax pledge, despite hurdles
Michael Catalini, Associated Press | 2/4/2018, 6:47 a.m.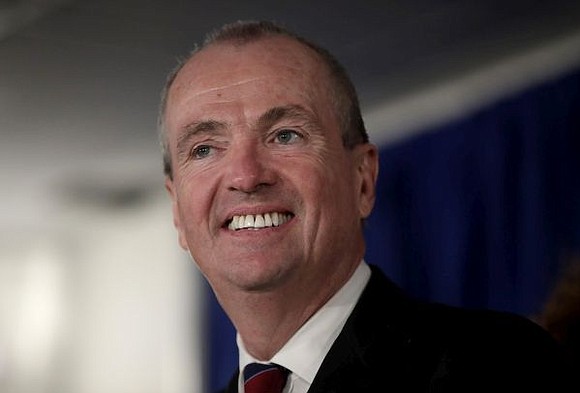 TRENTON, N.J. — Gov. Phil Murphy says he won't back away from promises to raise taxes on millionaires despite pressure he anticipates on state finances from the Republican tax overhaul and legislative concern over raising income tax rates.
Murphy, a Democrat, is nearly three weeks into the job, his first elected office, after succeeding Republican Chris Christie. He spoke Saturday during an interview with The Associated Press, reflecting on the same liberal agenda he sketched in his inauguration address and saying that his core campaign promises to fully fund pensions and school aid, financed in part by a higher tax rate on incomes over $1 million, remain unchanged.
The comments shed new light on what Murphy seems likely to introduce as he begins to prepare is his first budget, something he is expected to unveil next month during a speech to the Democrat-led Legislature. They represent a doubling-down on campaign promises but also leave unanswered questions about how Murphy will drive his agenda through a friendly but at-times skeptical Legislature, and how he'll finance the priorities.
"I haven't changed on any of that, what we talked about on the campaign," Murphy said. "You should assume the things we talked about on the campaign trail continue to be the things we're going to try to get done as a governing matter."
The remarks coincided with increasingly cautionary comments about the viability of raising taxes on millionaires from Senate President Steve Sweeney, who has said he sees such an action as a last resort.
Sweeney downplayed his disagreement with Murphy over raising taxes and projected optimism, though didn't specify how they would work the disagreement out.
"I know you guys really want to write stories on how we don't get along but we do," Sweeney said. "We're going to score touchdowns."
The worry over raising taxes stems from President Donald Trump and congressional Republicans' $1.5 trillion tax overhaul, which drastically cuts rates for corporations and includes more modest reductions for low- to moderate-income taxpayers. Of particular concern in high-property-tax New Jersey is the new limit of $10,000 on state and local tax deductions, because about two-fifths of residents itemize deductions, with an average deduction per filer of more than $17,000.
That could mean New Jersey households feel a greater pinch at tax time, with the potential to lower property values that would then squeeze local governments, which are financed through property taxes, according to Sweeney.
Murphy acknowledged the GOP tax overhaul has set up a hurdle for state finances. But, he said, because the new law disproportionately helps the wealthy, that only underscores the need to keep campaign promises, even when it's unclear how exactly the state can afford them.
"Just to take the tax plan for a moment. That makes our job harder, not easier," he said. "At the end of the proverbial day when we look back on it, a decade or two from now, 83 percent — I think is the number I saw — of the benefits will go to the top 1 percent, so that's just not the America that I grew up in. That's not who we are."