For NFL players, racial profiling often personal
Errin Haines Whack and Fred Goodall, Associated Press | 2/1/2018, 6:54 a.m.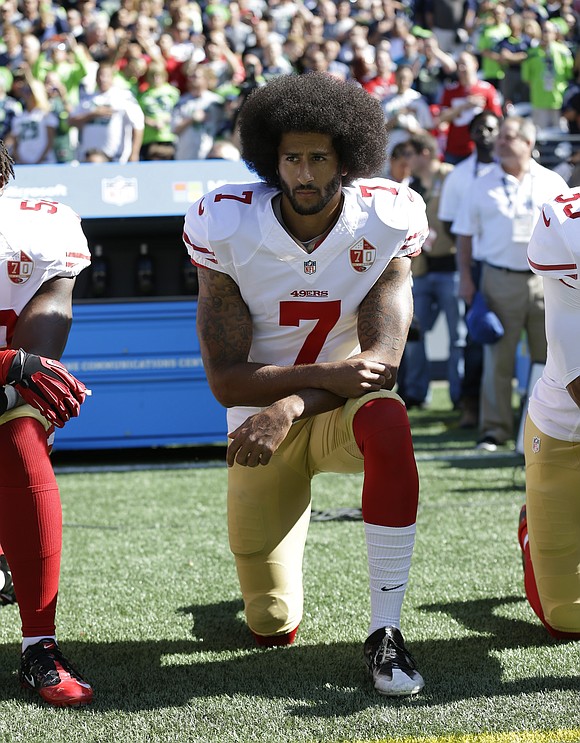 Bouye was among the players who recounted firsthand experience with racial profiling.
"My dad, when I was growing up ... gun to his head and everything," Bouye said. "That's why it hits close to me. We know that there are issues going on, and maybe some people don't want to bring awareness to them, but we'll find a way."
Tampa Bay Buccaneers defensive tackle Gerald McCoy said he, his father and his wife have all been victims of racial profiling — even after he became a successful athlete.
"It happened to my wife in the past couple of years," said McCoy, who was drafted in 2010. "She got pulled over. She was driving a Bentley. Nice neighborhood, and they pulled her over. All her stuff was right and they just didn't have any reason. It just wasn't right."
Black athletes have been finding a way to fight for social change for more than 100 years, from Jack Johnson, to Muhammad Ali to Kaepernick.
Their fights have come at great personal expense, from alienation by fellow Americans to incarceration to the loss of their careers.
NFL players faced backlash of their own in 2017.
During the season, President Donald Trump referred to the players as "sons of bitches" and suggested they be fired. And Trump again condemned the protests in his State of the Union address on Tuesday night, juxtaposing the campaign against the patriotic efforts of a white child who has planted thousands of American flags on the graves of veterans.
A recent AP-NORC poll showed most Americans think refusing to stand for the national anthem is disrespectful to the country, the military and the American flag. Most African-Americans polled were more likely to approve of the players' protests. Only 4 in 10 Americans polled saw refusing to stand for the flag as an act of patriotism.
Players have pointed out that the protests are allowed under free speech, one of the cornerstones of American democracy. Martin Luther King Jr. framed civil disobedience as a commitment to conscience tied to founding revolts of our country like the Boston Tea Party.
The issue has loomed over the entire NFL season, which culminates with Sunday's Super Bowl. And a year into his presidency, Trump's Department of Justice has abandoned talk of police reform in favor of support for law enforcement and criticism of activists.
Of the players surveyed at the Pro Bowl, 42 said they would support the idea of the NFL going back to keeping teams in the locker room until after the anthem is played, a practice that was changed in 2009 — not that they believe they have much say in what decision league owners will make.
"The league does what the league does," said Jackson. "I don't have any say in it, so I don't care."