Time's Up takes aim at R. Kelly over sex misconduct claims
Nekesa Mumbi Moody, AP Entertainment Writer | 4/30/2018, 6:30 p.m.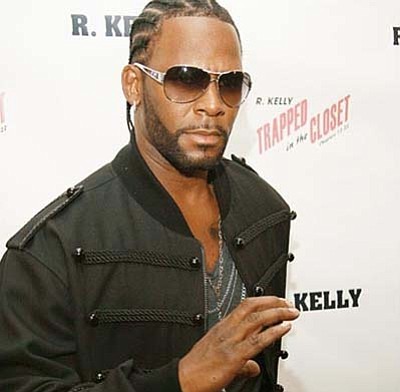 NEW YORK — The Time's Up campaign is taking aim at R. Kelly over allegations he has sexually abused women.
The organization devoted to helping women in the aftermath of sexual abuse issued a statement Monday urging further investigation into Kelly's behavior, which has come under closer scrutiny over the last year as women have come forward to accuse him of everything from sexual coercion to physical abuse. Kelly has denied such charges.
"We demand appropriate investigations and inquiries into the allegations of R. Kelly's abuse made by women and their families for more than two decades now. And we declare with great vigilance and a united voice to anyone who wants to silence us — their time is up," the statement said.
The statement was issued by the Women of Color committee within Time's Up, which includes Oscar-nominated director Ava DuVernay, TV mogul Shonda Rhimes and actress Jurnee Smollett-Bell.
The social media campaign #MuteRKelly has sought to stop his music from being played and to cancel his concerts, and Time's Up said it is joining that call.
Specifically, Time's Up is seeking action from RCA Records, Kelly's label; Spotify and Apple Music, which stream Kelly's catalog; and Ticketmaster, which has sold tickets to his concerts. And it is calling for the cancellation of a May 11 concert in Greensboro, North Carolina.
RCA, Spotify, Apple Music and Ticketmaster didn't immediately respond to email requests placed late Sunday night.
The Time's Up letter was addressed to women of color. It started by saying, "We see you. We feel you. Because we are you."
It continued: "For too long, our community has ignored our pain. The pain we bear is a burden that too many women of color have had to bear for centuries. The wounds run deep. As Women of Color within Time's Up, we recognize we have a responsibility to help right this wrong. We intend to shine a bright light on our WOC sisters in need."
Time's Up cited Bill Cosby's conviction last week for sexual assault as a step in the right direction but said it was "just a start."
In a further statement to The Associated Press, Smollett-Bell said: "We stand linked with our sisters and will no longer tolerate the predatory behavior of R. Kelly to go unchecked. This is a call to action to #MuteRKelly. His music must be turned down and the voices of these brave survivors must be heard."
The organizers of the #MuteRKelly movement said they were gratified that Time's Up was amplifying their cause.
"We will not stop until R. Kelly is held accountable for his sexual misconduct against Black girls and women, and we urge ALL artists, radio stations, record companies, streaming platforms and concert venues to cut ties with this accused predator," Oronike Odeleye, a co-founder of the movement, said in a statement.
R. Kelly, whose hits include "Ignition," ''I Believe I Can Fly," ''Step in the Name of Love," ''Same Girl" and "Bump N' Grind," is one of pop music's best-selling artists. He has also written hits for artists ranging from Celine Dion to Michael Jackson to Lady Gaga. While he's written classic love songs and even gospel music, he is defined by sexually explicit songs such as "Feelin' on Yo Booty," ''Your Body's Calling Me," ''Sex Me" and even more explicit fare.