Super Bowl champion Eagles add depth, rugby star in draft
Rob Maaddi, AP Pro Football Writer | 4/29/2018, 4:22 a.m.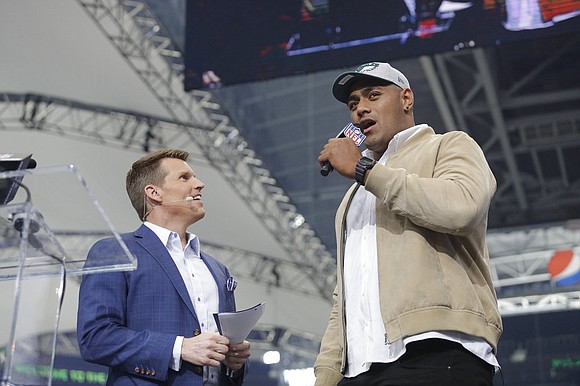 VALUE PICK
Sweat would've gone earlier in the draft if it weren't for medical concerns going back to a knee injury suffered in high school.
"He was much higher rated than where we got him," Roseman said. "We have a lot of trust in our medical staff. Dr. (Peter) DeLuca has done a great job for us for a long time. When he tells us that the guy's ready to go, we rely on them and we trust that."
Sweat only missed three games and sat out a bowl game last year to prepare for the draft.
"I think without the injury hopefully it would have been different," he said. "I wouldn't say frustrating. It's been more motivating if anything."
OVERLOADED D-LINE
The addition of Sweat plus free agents Michael Bennett and Haloti Ngata strengthens a line that already features Fletcher Cox, Brandon Graham, Tim Jernigan, Chris Long and Derek Barnett.
"That's what we call 'rich man problems,'" Roseman said. "We're excited about that. That's how we're going to build this. We're always going to put priority on the lines. You can never have too many."
MULTI-TALENTED
Goedert, who will team with Pro Bowl tight end Zach Ertz to give the Eagles another weapon at the position, rides a unicycle in parades in his hometown, Britton, South Dakota. He said the skill helps him on the field.
"It helps with the balance for sure," Goedert said. "If you get hit a little bit on the legs, you can torque your body to stay upright. So I think the balance definitely plays a big factor."
STILL NEED
Not a lot considering they are champions. Maybe some help on the offensive line. -- (AP)