Super Bowl champion Eagles add depth, rugby star in draft
Rob Maaddi, AP Pro Football Writer | 4/29/2018, 4:22 a.m.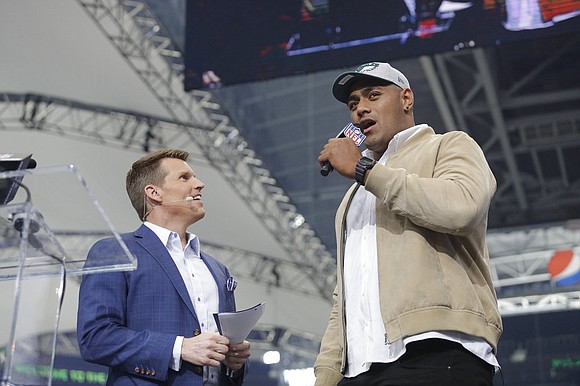 PHILADELPHIA — The Super Bowl champions Philadelphia Eagles used the NFL draft to add another playmaker, restock their depth chart and get a rugby star.
After using their only pick in the first two days to select South Dakota State tight end Dallas Goedert with the 52nd overall spot, the Eagles turned to defense in the fourth round Saturday. They took Pitt cornerback Avonte Maddox and Florida State defensive end Josh Sweat five picks apart. TCU offensive lineman Matt Pryor was picked in the sixth round and Philadelphia moved up 17 spots to draft Australian rugby player Jordan Mailata with No. 233.
Then the Eagles re-signed veteran running back and return specialist Darren Sproles, who tore an ACL and broke his forearm on the same play in Week 3 last season.
"Everybody in the building is excited to have Darren back," said Howie Roseman, the Eagles executive vice president of football operations. "He's that kind of guy."
Mailata, 6-foot-7, 346 pounds, is projected as an offensive tackle. He began to pursue a career in the NFL last year and trained in Florida the past few months.
"I knew if I made the decision, I'd be all in," said Mailata, who looks dominant running with the ball and knocking tacklers over in highlight videos. "Walking away from something I know very well to do something foreign was a big risk."
Maddox, chosen Saturday at No. 125, played four seasons in college. Despite his size — 5-foot-9 and 184 pounds — Maddox is known for his tough, physical play. He had seven sacks along with eight interceptions over the past three years.
"This is a guy that fits in with our DB room," said Joe Douglas, the Eagles vice president of player personnel. "It's a group of highly competitive guys, and he's going to blend in perfectly, and even stand out to a degree. Even though he's not the biggest guy, he will attack and support."
Sweat, 6-foot-5 and 251 pounds, was picked at No. 130. He had 14½ sacks in three seasons and gives the Eagles even more depth on a deep defensive line.
Pryor, 6-foot-7 and 338 pounds, started 21 games at right guard and six at right tackle in his final two seasons.
Here are some other things to know about the Eagles' draft:
SET UP FOR 2019
The Eagles added Baltimore's second-round pick next year by trading out of the first round, and sent a 2019 seventh-round pick to New England to move up 17 spots to get Mailata. They have eight picks in 2019 plus they'll likely get compensatory picks for losing free agents Trey Burton and Beau Allen.
READY TO PLAY
Maddox will compete for the nickel cornerback spot. Patrick Robinson, who had a pick-6 in the NFC championship game, left in free agency. Maddox also will get a chance to contribute as a returner.
"It can be anything on special teams," Maddox said. "And if they need me to play in the slot, I'll try to do my best there. And if they need me to play outside, I'll do my best there. Anything that they need me to do, I'll do it."