BUZZ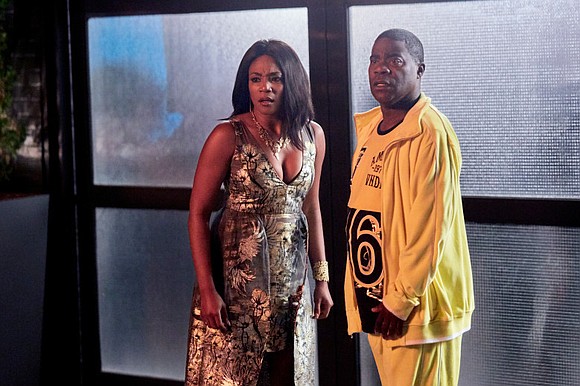 Tamar Braxton is not her hair and she proved it by shaving it all off. Yep, the reality star known for her Barbie-blonde tresses has come clean. According to an Instagram post of her new look, Braxton said she was "over" being tied to her hair.
"Im over feeling captive to a wig, weave, people, people's comments & opinions hell…even my OWN feelings," she wrote. "WE can choose to stop these things from having the power and victory over us!! And for me, that starts TODAY."
Braxton, 40, filed for divorce from her husband of nine years, Vincent Herbert, in October. The couple has a son together and are the stars of the WE tv show "Tamar and Vince."
Cardi B is pregnant. TMZ reports that the "Bodak Yellow" rapper, 25, is expecting her first child with her fiancé, rapper Offset of Migos. She is due in July. In March, Cardi was named Best New Artist at the iHeart Radio Awards in Las Vegas. In pure Cardi fashion, the Bronx rapper thanked her "haters" for her success. "I want to thank my haters too because they be downloading my stuff so they can hear it and talk crap about it, but it benefits me!" she said with a laugh. Cardi will next take the stage during the Coachella music festival this month, baby bump in tow.
Jay and Bey are on the run again, and this time the power couple broke the internet – correction, Ticketmaster. The Beyhive went into a tizzy last month when pre-sale tickets for Jay-Z and Beyonce's On the Run II tour went on sale and Ticketmaster crashed, leaving feverish fans out in the cold. Tickets sold out within the first minute and tickets with inflated prices could be found on StubHub shortly thereafter. The Beyhive was quick to voice its displeasure on Twitter.
The highly-anticipated joint tour kicks off on June 6 in the United Kingdom and hits the U.S. on July 25 with a stop in Philadelphia at Lincoln Financial Field on July 30.
If you are jonesing for more adventures in Wakanda (who isn't), buckle up, "Avengers: Infinity War" is due to hit theaters soon. The film, which opens April 27, features Chadwick Boseman, reprising his role of T'Challa/Black Panther, as well as a merry band of Marvel superheroes, including Iron Man, the Hulk, Captain America and Doctor Strange, who are battling an intergalactic baddie named Thanos. The film has already set a record for one-day advance ticket sales and is predicted to become one of the biggest Marvel Universe films ever.
After making history as the first Black female director to helm a $100 million film, Disney's "A Wrinkle in Time," Ava DuVernay has her sights set on tackling the DC Comics universe. DuVernay has recently inked a deal with Warner Bros. to direct a big-budget screen adaptation of "The New Gods." She will be following in the footsteps of Patty Jenkins who hit box office gold with "Wonder Woman."
"The New Gods" was created in 1971 by Jack Kirby about highly-evolved beings who inhabit a realm called the Fourth World.