Bon Jovi, Nina Simone, Moody Blues make it into Rock Hall
Mesfin Fekadu, AP Music Writer | 4/16/2018, 6:22 a.m.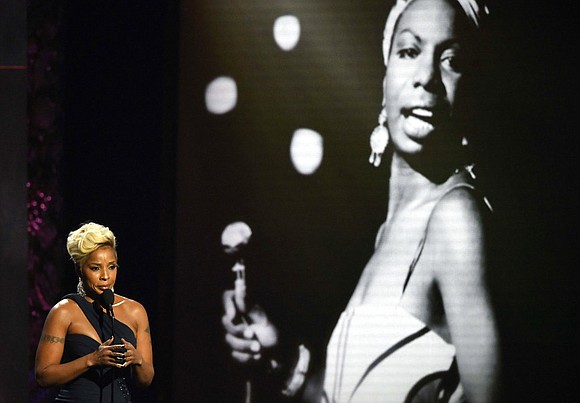 Later in the event, Ann Wilson of Heart and Jerry Cantrell honored Chris Cornell with a commanding rendition of Soundgarden's "Black Hole Sun." Cornell hanged himself in a Detroit hotel hours after a Soundgarden concert there last May.
The Cars and four first-time nominees, including Simone, Dire Straits, The Moody Blues and Sister Rosetta Tharpe, make up the 2018 Rock & Roll Hall of Fame class.
Rock Hall voters have recently opened their hearts to progressive rockers, which benefited "Nights in White Satin" singers The Moody Blues, the last act to be inducted Saturday.
Wilson of Heart said the English rockers "are and have always been a kick ass rock band."
Another English band, Dire Straits, was inducted at the event, but it was without its leader Mark Knopfler, or his brother David Knopfler. Onstage, Illsley said of Mark's absence: "I'll assure you it's a personal thing. Let's just leave it at that."
Illsley thanked the entire band and described the group as "a collective, a brotherhood." The band did not perform after speaking.
A flawless Brittany Howard, of the critically acclaimed rock act Alabama Shakes, gave an extraordinary Tharpe impression onstage, winning over the audience with her rousing live performance in honor of the godmother of rock 'n' roll. Howard was backed by an equally appealing Questlove of The Roots on the drums. Felicia Collins, best known has a member of the band on "Late Show with David Letterman," also wowed the audience when she performed a tribute to Tharpe.
Tharpe died in 1973 and was a pioneering guitarist who performed gospel music. A video package featuring past interviews from Johnny Cash, Aretha Franklin and others praising Tharpe's musicality aired at the event. Tharpe earned the "Award for Early Influence," while the other five acts were inducted as performers.
Flowers of the Killers, who has covered The Cars' songs at his live shows, was ecstatic and energetic as he inducted the band into the Rock Hall, even getting on his knee to hand the members their award as they walked onstage.
The Cars, founded in Boston in 1976 and known for combining New Wave and classic rock sounds, were inducted this year after being nominated twice before. Ric Ocasek paid tribute to bandmate Benjamin Orr, who died in 2000.
"It's quite strange to be here without him," Ocasek said.
Elliot Easton also was emotional at the end of his speech when he thanked his mom, who he said was watching from above.
"We did it mom!," he said, earning cheers from the audience.
Ocasek also earned applause when he namedropped Cleveland: "I lived in Cleveland for a while. It was actually the first place I played music in front of people."
The event will air May 5 on HBO. -- (AP)