Beyonce makes history at Coachella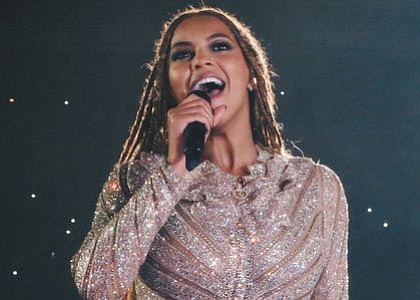 After postponing her 2017 headlining gig at Coachella due to her pregnancy with twins, Beyonce more than made it up to fans on Saturday night when she closed out the festival in Indio, Calif., with a history-making performance that reunited the pop star with Destiny's Child and included appearances by her husband Jay-Z and little sister Solange.
Beyonce is the first Black woman to headline the popular music festival, which is in its 19th year, and anticipation and speculation for her performance ran high.
Before she took the stage, Beyonce amped up the hype with a Facebook post to her fans, writing: "I am so excited to see the BeyHive tonight at Coachella. We have been working hard and have a special show planned for you so please be safe and stay hydrated. We need your energy! There will be an hour intermission before my performance, so mark your spot, charge your phones, grab your drinks. Can't wait to see y'all at 11:05pm!"
Beyonce's return to the stage, since giving birth last year, was nothing short of spectacular. The pop icon's two-hour set was reminiscent of a Black college football game half-time show and included a brass band, bleachers and dozens of dancers backing her up. With several costume changes and impeccable choreography, Queen Bey effortlessly and energetically ran through a litany of her hits, including a series of Destiny's Child classics as well as her solo gems – "Déjà vu," Sorry," "Drunk in Love," "Get Me Bodied," "Baby Boy" and much, much more – showing the breadth and depth of a career that has turned the music industry on its head and garnered her legions of devoted fans who were anxiously awaiting the return of their Queen.
"This is a very important performance for me," she told the crowd. "I'm happy to be back on the stage tonight."
Follow me on Twitter @ShondaMcClain.