Trump: US, allied strikes aimed at Syria's chemical weapons
Associated Press | 4/14/2018, 6:09 a.m.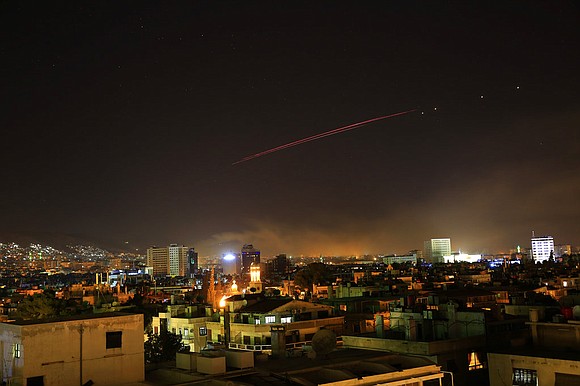 WASHINGTON — The United States, France and Britain launched military strikes in Syria to punish President Bashar Assad for an apparent chemical attack against civilians and to deter him from doing it again, President Donald Trump announced Friday. Pentagon officials said the attacks targeted the heart of Assad's programs to develop and produce chemical weapons.
Explosions lit up the skies over Damascus, the Syrian capital, as Trump spoke from the White House.
Syrian television reported that Syria's air defenses, which are substantial, responded to the attack. Defense Secretary Jim Mattis said there were no reports of U.S. losses in what he described as a heavy but carefully limited assault.
Trump said the U.S. is prepared to sustain economic, diplomatic and military pressure on Assad until he ends what the president called a criminal pattern of killing his own people with internationally banned chemical weapons.
"The evil and the despicable attack left mothers and fathers, infants and children, thrashing in pain and gasping for air. These are not the actions of a man; they are crimes of a monster instead," Trump said.
Mattis, however, said the assault was a "one-time shot," so long as Assad does not repeat his use of chemical weapons.
The strikes were carried out by manned aircraft and from ships that launched cruise missiles from the Mediterranean Sea.
Mattis disclosed that the U.S. had not yet confirmed that the most recent suspected Syrian chemical weapons attack, on April 7 in the Damascus suburb of Douma, included the use of sarin gas. He said at least one chemical was used — chlorine, which also has legitimate industrial uses and had not previously triggered a U.S. military response.
Mattis said the targets selected by U.S., British and French officials were meant to minimize civilian casualties.
"This is difficult to do in a situation like this," he said, in light of the volatility of chemical agents.
At a Pentagon news conference alongside Mattis, and with British and French military officers beside them to emphasize allied unity, Gen. Joseph Dunford said the attacks targeted mainly three targets in western Syria.
Dunford, chairman of the Joint Chiefs of Staff, said missiles first struck a scientific research center in the Damascus area that he said was a center of Syrian research, development, production and testing of chemical and biological warfare technology. The second target was a chemical weapons storage facility west of Homs. He said this was believed to be the main site of Syrian sarin and precursor chemical production equipment.
The third target was a chemical weapons equipment storage facility and an important command post, also west of Homs, Dunford said.
British Prime Minister Theresa May said in London that the West had tried "every possible" diplomatic means to stop Assad from using chemical weapons. "But our efforts have been repeatedly thwarted" by Syria and Russia, she said.
"So there is no practicable alternative to the use of force to degrade and deter the use of chemical weapons by the Syrian regime," May said. "This is not about intervening in a civil war. It is not about regime change."