Kenya Moore expecting first baby with hubby Marc Daly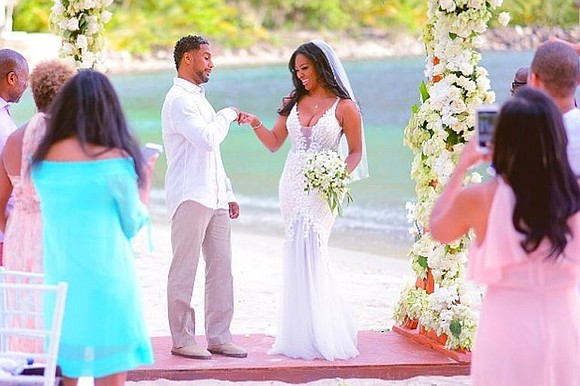 The pitter-patter of little feet will soon be heard at "Moore Manor."
Kenya Moore has long talked about her desire to be a mother and now the reality TV star's dream is coming true. Moore, 47, dropped the baby bomb during "The Real Housewives of Atlanta" reunion show on Sunday. Moore told host Andy Cohen that she and her new husband, Marc Daly, "will definitely be welcoming a boy or girl in late this year," to the delighted gasp of her castmates.
"I don't want to talk about the details because I'm still very nervous about everything, so I want to get past a safe place," she added.
This will be Moore's first child with Daly, whom she married 10 months ago. The two dated for six months before eloping on the lush island of St. Lucia.
The wedding came as a surprise to Moore's family and friends who did not know she was dating the New York restaurant owner – including one of her closest friends and castmates Cynthia Bailey.
This became a part of Moore's storyline throughout the season, along with the fact that her new husband was reticent about being filmed for the reality show and only recently made his first appearance at the tail end of the season.
After announcing her pregnancy, Moore received an outpouring of support from her fans and took to Twitter on Monday to express her gratitude. "My heart is full thank you to everyone for all your well-wishes. I was not planning on speaking about my pregnancy this early as due to my age I'm high risk," she wrote. "Right now I want to focus on positivity and having a healthy baby. I do not have a surrogate but definitely would be open to it next time."
When Cohen asked Moore whether she was hoping for a boy or a girl, the former beauty queen said, "I want a healthy baby."
Follow me on Twitter @ShondaMcClain.