Menendez corruption trial could affect governor's race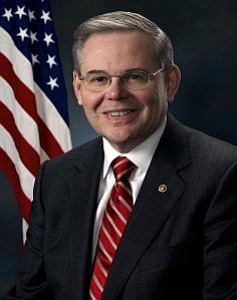 As the federal corruption trial of U.S. Senator Robert Menendez enters its third week in a Newark courtroom, aspects of the occasionally riveting testimony is causing some chaos among New Jersey Democrats as the state's governor's race enters the final stretch, according to some reports.
Having a high profile state Democrat on trial weeks before New Jerseyans elect a new governor is not helping the party despite Democratic candidate Phil Murphy's sizable lead over Republican contender Lt. Gov. Kim Guadagno. In 2015, Menendez was indicted on bribery and corruption charges in connection with accepting campaign donations and lavish gifts from and a wealthy campaign donor—Florida eye doctor Salomon Melgen—in exchange for political influence and intense lobbying efforts from Menendez for Melgen's existing and new business ventures. Melgren is also named in the indictment. Both men have denied the charges against them.
New Jersey Assemblywoman Angelica Jimenez dismissed the criticism about Menendez and the negative impact it may have on the upcoming gubernatorial race. "All of us legislators at one time or another have reached out to the senator on behalf of our constituents," Jimenez said in a recent interview. She added, "I tend to think this is more of smear campaign." However, a recent Quinnipiac Poll shows that the trial has hurt Menendez with his approval rating has dropped and more than half of New Jersey residents said he should not seek re-election next year—a seat he has held since 2006.
On blogger posted, "Does he have the right to keep his office if he is convicted and sentenced? If that were to happen, outgoing Gov. Chris Christie would name his replacement—most likely a Republican that would tip the decision on several key congressional issues. However, according to some pundits, it is unlikely that such a scenario would occur. For example, there is no law that a senator who is convicted of a crime must forfeit his seat. Secondly, even if Menendez is convicted, his legal team would likely file an appeal and the process would enable Menendez to retain his senate seat until after Jan. 6 when New Jersey's next governor is sworn in and confirmed.
The jury trial is expected to last through November.