'Def Comedy Jam' celebrates 25 years with Netflix special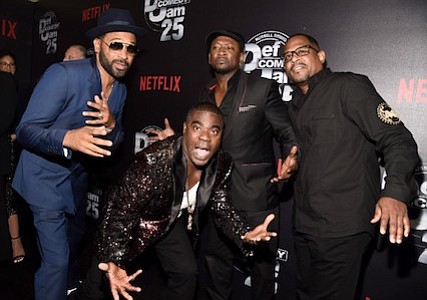 Some of the biggest names in comedy will come together for one night to celebrate the 25th anniversary of "Russell Simmon's Def Comedy Jam."
"Def Comedy Jam," created by music impresario Russell Simmons and produced by Simmons and Stan Lathan, ran on HBO from 1992 to 1997, and was one of the most influential shows on television. The groundbreaking series launched the careers of a new generation of Black comics like Bill Bellamy, Mike Epps, Mo'Nique, Adele Givens and the late Bernie Mac.
On Sept. 26, Netflix will commemorate the 25th anniversary of the show with "Russell Simmons' Def Comedy Jam 25," a class reunion, of sorts, for some of the biggest names in comedy and some new ones, including "Girls Trip" star Tiffany Haddish, who remembers watching the show as a kid. Haddish told The Washington Post she's "grateful and thankful and honored that they even thought to call me" for the 25th anniversary special.
During the taping of the special on Sept. 10 in Beverly Hills, Haddish joined an elite group of comics – Dave Chappelle, Sheryl Underwood, Cedric the Entertainer, Kevin Hart, Steve Harvey and Martin Lawrence, among others – to pay homage to the cultural impact of "Def Comedy Jam," which was huge and undeniable.
"I don't know anyone who was on 'Def Jam' who isn't working right now, unless they are dead or don't want to," comedian D.L. Hughley told Variety. "From theaters to corporate venues to comedy clubs, if you look at who is putting asses in the seats, it's all alumnis of 'Def Jam.'"
Lawrence, who served as the first host of the breakthrough comedy series, while filming his sitcom "Martin," told Variety, "When I look back on it, I was a young kid and I was fearless. I just wanted to seize the moment and every chance that I got to be on stage."
Craig Robinson, star of the upcoming Fox series "Ghosted" appeared on "Def Comedy Jam" in 1992. It was his first television appearance and it "put me on the map," he told The Washington Post.
The Netflix special will kick off six new episodes of "Def Comedy Jam" that will air on HBO, Simmons told Variety. "These are voices that Hollywood would have never given a break to … there are a lot of people who need a break again."
Follow me on Twitter @ShondaMcClain.