25 Most Influential African Americans in New Jersey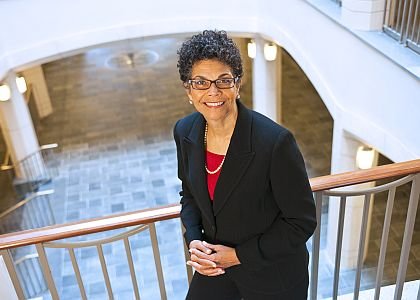 South Jersey Journal celebrates its second annual class of the 25 Most Influential African Americans in New Jersey. This year's recipients excel in business and industry, politics, education, health care, religion and culture. The list of honorees include New Jerseyans that stand head and shoulders above others and boldly reflect the rich diversity and excellence of the African American community throughout the Garden State. We salute our 2017 honorees and applaud them for their outstanding achievements and contributions.
25 Most Influential African American in New Jersey- 2017
Leslie Anderson Executive Director of New Jersey Redevelopment Authority—Anderson is the first African American woman to sit at the helm of the multimillion dollar independent financing authority for the state. She is at the forefront of revitalizing and transforming some of the Garden States' toughest urban hubs into safe, affordable and family friendly communities.
Ras Baraka, Mayor of Newark, NJ---A native Newarker who became leader of the Garden State's largest city in 2014, Baraka is both a politician and a community activist. As the head of the Brick City, Baraka is also a vocal advocate for social and community change in Newark and across the state.
Cory Booker, U.S. Senator NJ—With a social media presence that exceeds some celebrities and politicians, Booker, the former mayor of Newark is quick to espouse his opinions and views that will impact all New Jerseyans. The celebrated attorney and author is just the fourth African American in the U.S. Senate since Reconstruction, Booker's political and social influence is ubiquitous.
Monique Chadband, President and Chief Executive Officer of United Way of Salem County—Giving back to the community is an aged old adage that still resonates today. As the executive director of United Way of Salem County, Monique Chadband implements grassroots initiatives to help residents of South Jersey help themselves, but help others as well.
Bonnie Watson-Coleman, Congresswoman (U.S. Representative NJ 12th District)--As the first African American woman in Congress from New Jersey, Bonnie Watson Coleman is outspoken and some might say aggressive when it comes to discussing the issues. The Ewing Township native is usually at the forefront of any discussion about racism, ageism or women's issues.
Paul Drayton, President of Rowan College in Burlington County—As the president of Rowan College in Burlington County, Paul Drayton frequently straddles the fence as both senior administrator and educator. He is an overseer of the college campus, yet also provides educational guidance to students on the bustling college campus. Drayton, who is a lifelong Burlington County resident has a direct impact on the lives of thousands of Rowan College students.
J. Curtis Edwards, President/CEO of CompleteCare Health Network, Councilman for City of Bridgeton --As the leader of one of the largest networks of health care centers in southern New Jersey, Edwards has become adept at keeping abreast of the ever-changing status of health care in the country. By offering various wellness initiatives and a sliding fee schedule to patients, Edwards is committed to keeping everyone healthy.
David G. Evans, Senior Pastor at Bethany Baptist Church in Lindenwold, NJ— "It's not where you start, but where you finish." There are few people this phrase epitomizes better than Bishop David G. Evans. Coming from a troubled home, Evans' life was the perfect recipe for a statistic. But God had a plan for this young man, and through a series of ordained events, Evans has now become one of the most powerful and notable preachers of the day. A frequent Trinity Broadcast Network host, Prelate of the Abundant Harvest Fellowship of Churches, Pastor of the 27,000-member Bethany Baptist Church, author of Healed Without Scars, and CEO of David G. Evans Ministries, which produces the Power of Revelation T.V. Broadcast worldwide (including on StreamingFaith.com); Dominion Radio Ministries and OnPoint, a live call-in radio talk show, Bishop David G. Evans has set out to change the world and offer the same deliverance he received, through Jesus Christ.