CBC Members host forum about racism on college campuses
Lauren Victoria Burke and Freddie Allen | 9/16/2017, 11:59 a.m.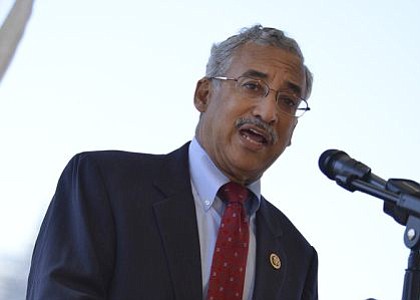 Dumpson was the target of a series of racist acts in May, when someone hung bananas in nooses around American University's campus; some of the bananas were marked with "AKA," the letters of Dumpson's sorority, Alpha Kappa Alpha. The incident occurred a day after Dumpson was elected the first African American female student body president.
"In America we tend to think of racism and White supremacy in the most blatant and hateful individuals and forms of discrimination like the [Ku Klux Klan], Neo-Nazis, and the alt-right, while ignoring the more subtle and systemic forms," said Gobar. "It is important to condemn the most visible elements of White supremacy, but we must further address these subtle and systemic forms."
Gobar said that he's heard racial slurs and racists comments that were yelled by White supremacists during the rally in August, repeated in hushed tones on campus; he has also seen anonymous posts written online calling Black students 'monkeys' and messages written in chalk on campus suggesting that Black people have lower IQs than White people.
"At a recent student council meeting, one student said that, 'Thomas Jefferson raped Black women, but so did everyone else at the time,'" Gobar recalled.
Gobar continued: "Well, before August 11 and 12, this has been the climate for students of color at the University of Virginia and this climate has served as an unnecessary burden towards our learning experience."
The student leader said that many incoming students of color now feel scared and unwelcomed at the University of Virginia after the events of August 12.
"To tell the truth, this is a nearly constant feeling on campus," Gobar. "There are pervasive incidents of harassment like this every year and they are by no means isolated."
Systemic problems require systematic solutions, said Gobar.
Gobar noted that Black student enrollment at the University of Virginia is only 6.4 percent and recommended more funding for existing scholarships, financial aid and fellowships that target underrepresented groups. He also advocated for increasing the funding for organizations that serve minority populations on campus.
"The status quo can longer be acceptable," Gobar said.
Ifill recommended that congressional lawmakers conduct oversight hearings to ensure that the Justice Department properly enforces Title VI and that lawmakers exercise budget authority to fully fund the enforcement of civil rights laws, including the Civil Rights Act of 1964, the Every Student Succeeds Act of 2015, Title IX and section 504 of the Rehabilitation Act of 1973.
Ifill also recommended that Congress pass legislation that will provide vigorous civil rights protection, like Equity and Inclusion and Enforcement Act, (H.R. 2486), co-sponsored by Reps. Scott, Conyers, and Alma Adams (D-N.C.) and Gregorio Kilili Camacho Sablan (D-North Mariana Islands)
"LDF's commitment to promoting equitable educational opportunities for America's students has endured for decades," said Ifill. "We have no intention of rolling back our commitment to that."