Rihanna debuts Fenty Beauty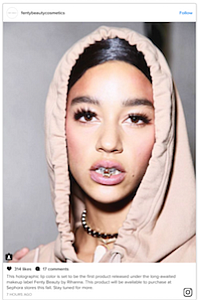 Rihanna made history when she became the first black woman to front a Dior fashion campaign in 2015. Now, the Barbadian-born singer/songwriter has dipped a well-manicured finger into the beauty business with the launch of her cosmetics company, Fenty Beauty, which debuts globally on Sept. 8 at Sephora and Harvey Nichols.
Rihanna unveiled the long-awaited campaign for the beauty line over the Labor Day weekend to rave reviews. Allure called it "everything" and "an ode to and a celebration of diversity."
According to the magazine, 35 percent of American women are women of color and it is no secret that this segment of society has long been ignored by the beauty industry. Model Leomie Anderson lamented in a tweet, last year, about the lack of foundation options for women of color, writing: "Why is it that black makeup artists are busy with blonde, white girls and slaying their makeup and I have to supply my own foundation."
The struggle is not new. Supermodels Iman, Beverly Johnson and Naomi Campbell have all posited on the lack of foundation choices for women of color and have often had to mix multiple colors on their own to achieve the right shade for their complexion.
Fenty Beauty, which calls itself "The New Generation Of Beauty," will seek to close the beauty gap. For now, beauty insiders believe the line will include shiny lip glosses, matte lipsticks and sparkly highlighter – Rihanna posted an Instagram photo of the Killawatt Highlight Duo in Ginger Binge and Moscow Mule on Monday. And, because the new campaign features a bevy of ethnic models ranging in complexion from crème de café to mocha latte, it also believed the line will include a line of ethnically diverse foundations.
For the past decade, Rihanna's eclectic sartorial choices have landed her on magazine covers, the international best dressed list and established her as a fashion icon. The mogul-in-the-making has also teamed up with Puma to create one of the most coveted shoes of 2016 and 2017, the Fenty x Puma Creepers, and she has had a lucrative line of fragrances, including RiRi, Reb'l Fleur and Nude.
Follow me on Twitter @ShondaMcClain.