Hurricane Harvey wreaks havoc on Gulf Coast
Stacy M. Brown and D. Kevin McNeir (The Washington Informer/NNPA Member) | 9/3/2017, 9:46 p.m.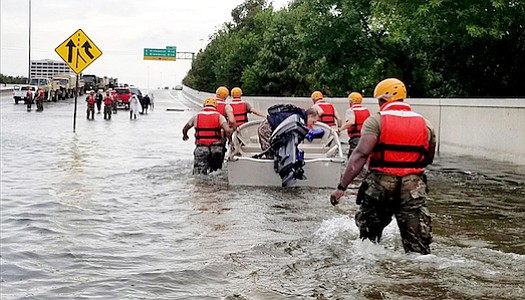 As more and more inches of rain fell in the Houston-Galveston area, the wrath of Hurricane Harvey, downgraded to a tropical storm, continued along the Gulf Coast toward Louisiana, sparking more evacuations and further heightening concerns of residents and local and state officials.
Rainfall numbers have broken national records at 51.88 inches as of Wednesday, August 30.
President Donald Trump, along with his wife, White House staff and elected officials, met in Corpus Christi on Tuesday afternoon, August 29 for a briefing led by Texas Governor Greg Abbott.
Trump applauded the efforts of first responders in Texas and promised to make sure the recovery efforts would be swift and serve as a subsequent model for the world. He closed with comments about the impressive size of the crowd that turned out to hear him.
However, critics fault him for saying nothing to the millions of victims who remain homeless, lost or dead.
Houston has emerged as Ground Zero with record-breaking rainfall, unprecedented flooding and over 17,000 people displaced and forced to seek refuge in three mega-centers: the Houston Convention Center, the NRG Center and the Toyota Center—all three at or beyond capacity.
Red Cross CEO American Red Cross Gulf Coast Texas Region on Wednesday said his organization has opened close to 100 smaller shelters in Texas. Cities like San Antonio and Dallas, both spared from the fury of the storm, have opened centers to accommodate the overflow of citizens.
In a twist of irony, with thousands still stranded and at least 22 reported dead, including a 61-year-old veteran Houston Police Department officer, Tuesday also marked the 12th anniversary of Hurricane Katrina. Katrina touched down in 2005, devastating the U.S. Gulf Coast, killing more than 1,800 people and resulting in over $100 billion in damage.
In the Houston area, the U.S. Coast Guard reported on Tuesday that cries for help still had not abated as officials recorded as many as 1,000 calls per hour. As of Tuesday afternoon, they had rescued more than 3,000 people via boat and air. Between Sunday and Tuesday, the Houston Fire Department reported receiving more than 2,300 calls, including 400 from individuals seeking to be rescued from the great flood waters.
Meanwhile, the Houston police reported that between Monday and Tuesday, they had rescued 1,000 people, bringing the total to more than 3,000 since the flood began.
National Newspaper Publishers Association (NNPA) member and Houston Defender publisher Sonny Messiah-Jiles counted among the many rescued from their homes, as water poured through her house forcing them to higher ground.
"It's been a hell of a day," Messiah-Jiles said on Sunday. "Some neighbors came down from about four or five blocks from us and ended up rescuing everyone from our gated community—about 60 people—and it was my first time in an airboat, but I'm alive and well and okay."
Messiah-Jiles noted that she's now safe in a hotel.
"I'm just hoping we don't have what they had in Louisiana with the levees," Messiah-Jiles said.
Karen Carter-Richards, the publisher of The Houston Forward Times and 1st vice president of the NNPA, said that she and her family and the offices of the Forward Times remain intact.