Flip or Flop Ft. Worth' to debut on HGTV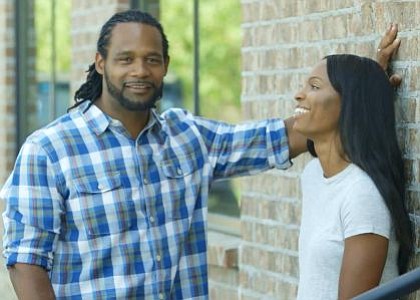 A new team of home remodelers is coming to HGTV and they are packing more than paint. The hosts of "Flip or Flop Ft. Worth" are Ashley and Andy Williams, two military veterans who have made it their mission to transform blighted areas of their hometown into something livable and beautiful.
According to HGTV, the couple met nearly a decade ago at a gym while serving in Iraq. Ashley was serving in the Army and Andy was a Marine. The two bonded over their military experiences and their shared love of fitness and became "battle buddies."
After leaving the military, the couple used real estate to transition back into civilian life.
"Real estate was my rally point and eventual safe haven for my family," Andy told HGTV. "I've always viewed real estate as a way to add value to the community while making above average returns. I decided to study the real estate market closely and invest with a purpose for pathway to transition from Iraq back home in Texas."
A couple that works together stays together – if they stay in their lanes. And that's just what Ashley and Andy do. Each plays a role in the business, which keeps their working relationship harmonious.
"Andy is amazing at finding deals. He is a true recon marine!" Ashley told HGTV. "I'm really good at keeping the end goal in sight. It's really easy to get tied up in a flip trying to create your dream home when really you're creating someone else's dream."
Flipping houses is a family affair. The couple's two children, Ashton and Amina, also play a role in the family hustle.
"We like to get their help with sourcing houses. We call it 'driving for dollars,'" Ashley added. "We drive around on Sundays and look at different neighborhoods and see what our next endeavor will be!"
The nine-episode first season of "Flip or Flop Ft. Worth" will premier on Nov. 2 on HGTV.
Follow me on Twitter @ShondaMcClain.