We need a values revolution in America
Reverend Dr. William J. Barber, II (President, Repairers of the Breach) | 10/19/2017, 6:26 p.m.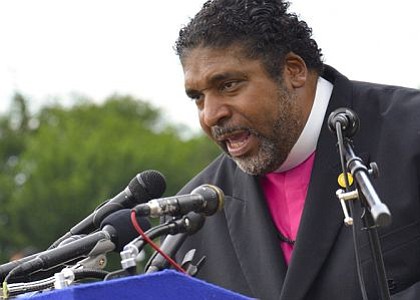 Their poisonous mix of racism and religion hurts all of us, but the irony is that it hurts more poor, White people in raw numbers. The agenda they are pushing in Washington and in state houses will hurt Southern, so-called "red" states, the worst, but at the Values Voters Summit, lead organizer Tony Perkins put on duck hunting waders and pretended to "wade into the swamp" as a man of the people.
The Southern Poverty Law Center calls Perkin's Family Research Council "a hate group." Perkins denies that Islam is a religion and regularly rails against gays and warns that LGBT citizens plan to round up the Christians in "boxcars." His vice president, William "Jerry" Boykin, Jr., claims that Islam is "pure evil" and should not be protected under the First Amendment. Boykin has threatened to physically attack anyone not using the bathroom that he thinks they should use.
We have to stop calling these leaders White Christians or evangelicals. Why should we listen when they p-r-a-y in public and p-r-e-y on the people? These attacks on healthcare will become devastating to the poor. Even a Republican governor said Trump's executive order will hurt the mentally ill, damage the poor and distress families.
Trump has brought about a devolution of values, not a revolution of values. They did not have a values conference in that D.C. ballroom; it was a vicious conference where they clapped and applauded a president, who would undermine healthcare for the poorest and most needy people in our country and then attempt to claim that somehow he has rescued Judeo-Christian values. Nothing could be further from the truth, and nothing could be more of a sign that this president and those who go along with him suffer from a values and moral bankruptcy.
Now, more than ever, we see the truth of what Dr. King said: we need a "moral revolution of values." I have been crossing this country for the past eight weeks with Rev Dr. Liz Theoharis, meeting in churches and synagogues and community colleges with thousands of people, who know we need a values revolution in America. We are building a Poor People's Campaign and Moral Revival to not only reclaim our time, but also to reclaim our values, which been hijacked by extremists.
Corporate sponsorship has bloated the public image of extremism, but there are far more people of faith and conscience, who want to revive the heart and soul of our democracy. We are inviting that moral majority to speak out and stand up for a #ValuesRevolution.
Rev. Dr. William J. Barber, II, is the President of Repairers of the Breach, co-chair of the Poor People's Campaign: A National Call for Moral Revival, and author of The Third Reconstruction. Follow Bishop Barber on Twitter @RevDrBarber. Follow Repairers of the Breach on Twitter @BRepairers.