Rev. Jesse Jackson announces Parkinson's diagnosis
Friends, Medical Community Weigh-In on Rev. Jesse Jackson's Parkinson's Diagnosis
Stacy M. Brown (NNPA Newswire Contributor) | 11/26/2017, 11:53 a.m.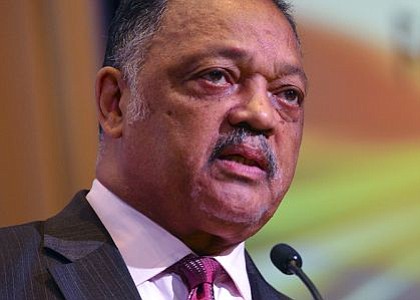 He said the disease may slow Jackson, but won't stop him.
"Activism and civil rights are in his blood. As a journalist, Jesse Jackson has been a treat and joy to cover and write about," said Eaton. "He has been a civil rights darling and media maverick…Jesse Jackson is a quintessential and preeminent civil rights activist of our time."
Even though Parkinson's disease is a chronic neurological condition, it is very treatable, said Dr. Nabila Dahodwala, an associate professor of neurology at the Perelman School of Medicine at the University of Pennsylvania.
"A diagnosis of Parkinson's disease does not necessarily mean that you must make drastic changes, but every individual is different in how they are affected, how they respond to treatment and how they choose to spend their time," Dahodwala said.
Ihtsham ul Haq, an expert in neurology at the Wake Forest School of Medicine, said he believes Jackson will do well.
"Though each patient's journey with Parkinson's disease is a little bit different, thankfully for many the symptoms are often well-managed with medication, said Haq. "The hallmark of the disease is the slow loss of dopamine in the brain, which unlocks our movement."
Haq continued: "As patients begin to produce less of it they show the slowness, stiffness, and tremor that typify the disease. Replacing dopamine usually substantially alleviates these problems."
Leslie A. Chambers, the president and CEO of the American Parkinson Disease Association, said making appropriate lifestyle changes and focusing on physical therapy will go a very long way to helping Jackson live the best life possible, in spite of the disease.
"Since its a lifelong chronic illness, the American Parkinson Disease Association encourages people with Parkinson's to seek out a top notch medical and healthcare team, which includes a movement disorders specialist physician and allied healthcare providers and protect and defend their overall health status with a nutritious diet, physical therapy and safe, effective daily exercise programs, as well as emotional and social support from family, and professional care partners-givers," Chambers said, adding that the association extends heartfelt wishes to Jackson.
Dorothy Leavell, the chairman of the NNPA and the publisher of the Crusader Newspaper Group said that even though Jackson is in for the fight of his life, she warned that Parkinson's disease had met its match.
"This is a major blow, but it's not the death knell," said Leavell. "We will keep working and encourage Jesse with all he's done for us and continues to do."