Hazim Hardeman becomes Temple's first Rhodes Scholar
North Philadelphia native makes history as Temple's first recipient of the prestigious scholarship
Hillel Hoffmann | 11/22/2017, 7:16 a.m.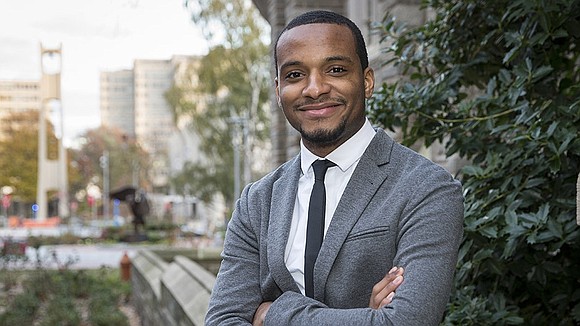 At Temple, Hardeman authored or co-authored articles in peer-reviewed journals on subjects ranging from the prison abolition movement to perceptions of the relationship between mass shootings and gun control, and he presented papers and posters at conferences on pedagogy and rhetoric. Hardeman, who has served as a substitute teacher in the School District of Philadelphia, also earned an A Running Start Research and Policy Fellowship with the City of Philadelphia Mayor's Office of Community Empowerment and Opportunity, where he explored education and municipal best practices, particularly in the area of citywide playgrounds and their need for upgrades. Hardeman is currently working as an adjunct instructor at Temple.
After earning a master's degree at Oxford, Hardeman hopes to pursue a doctorate in communications or education and continue his research in the areas of critical pedagogy, social movements, race and politics and African American intellectual history.
"As a scholar, I hope to draw on the wisdoms of my community to intervene in our public discussions," he said. "As a practitioner, I hope to educate inside and outside formal spaces of learning—one of which is prisons."
Ruth Ost, senior director of Temple's Honors Program, told The Philadelphia Inquirer that Hardeman is the ideal representation of the vision of Temple founder Russell H. Conwell, who sought to teach motivated students in the North Philadelphia neighborhoods that surrounded his church.
"We talk about acres of diamonds in our own neighborhood," she said. "Here is Hazim, born and raised in North Philly. If we had to choose someone who represents the values of Temple and what Temple really cares about, this is the man who does that."
Source: Temple Now, Temple University