Murphy vows to end state takeover of Atlantic City
Frank Gilliam elected new mayor of the resort city
It's been a year since the state took over control of Atlantic City--and Nov. 7 voters played the odds and won and elected Atlantic City as City Council President Frank Gilliam over Republican incumbent mayor Don Guardian to assume the reins of the beleaguered South Jersey resort city.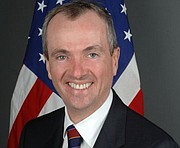 Despite allegations of voter fraud and other surreptitious behavior made by Guardian against his opponent, voters successfully voiced their dissatisfaction and outrage with Guardian's poor leadership qualities prior to and after the state assumed financial control and the day-to-day operations of the once thriving resort community.
Last November, Governor Chris Christie ordered control of the city from Guardian to the state, due in part to the city's major financial woes, stemming in large part from a drop in gambling revenues; an exodus of small businesses and a long history of mismanagement by current and previous administrations. Guardian, 63, was elected mayor in 2014 and was the first Republican to sit at the helm of the city since 1990.
Gilliam, 47, is a native of the city and is completing a second four-year term on the city council that ends in December. He has frequently clashed with Guardian and sharply criticized the Christie administration for assuming control of the city---an edict that governor-elect Phil Murphy has vowed to end. Gilliam has promised to increase affordable housing and offer incentives for small businesses to set up shop and thrive in Atlantic City. An entrepreneur, Gilliam owns a tutoring business and holds an undergraduate degree from Stockton State University in Galloway Township, NJ.