Rookies from South Jersey making mark in NFL
Maya Hughes | 11/18/2017, 7:51 a.m.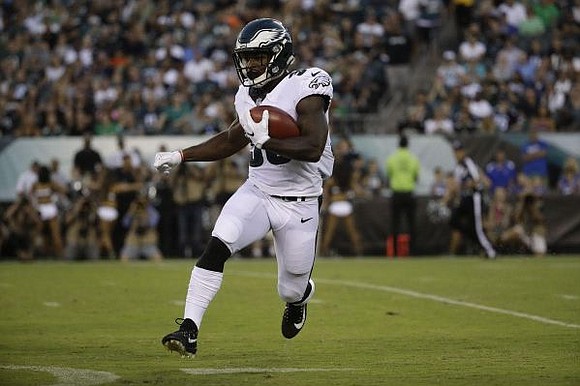 While fans across the country are tuning in to watch their favorite teams and players compete in the NFL, many people in South Jersey are cheering for local standouts. Three rookies including running back Corey Clement (Philadelphia Eagles), linebacker Hassan Reddick (Arizona Cardinals), and offensive tackle Julien Davenport (Houston Texans) are contributing to their teams in a huge way.
A native of Glassboro, N.J., Clement attended Glassboro High School where he rushed for 6,245 yards, 34 rushing touchdowns and 90 total touchdowns during his career. In track and field, Clement posted a time of 11.76 seconds in the 100-meter dash as a senior. He was also ranked by Rivals.com as a four star recruit and the 17th best running back in his class.
He originally committed to the University of Pittsburgh to play college football but ended up playing at the University of Wisconsin. In 2013, he was named the Big Ten Freshman Player of the Week twice. During his 2014 season Clement was name the Big Ten Offensive Player of the Week.
On May 11, 2017, Clement signed with the Philadelphia Eagles as an undrafted free agent. Clement was active in his first NFL game against the Washington Redskins on Sept. 10th. On Sept. 24 Clement scored his first NFL touchdown against the NY Giants on a 15 yard run. The Eagles ended up beating the Giants 27-24.
A native of Camden, N.J., Reddick attended Haddon Heights High School in Haddon Heights, New Jersey where he played safety and running back. He was limited to four total games during his junior and senior seasons due to a broken leg (junior) and a torn meniscus in his knee (senior).

Reddick joined the Temple University football team as a walk-on in 2012. He redshirted in 2012 and saw his first game action in 2013. As a senior in 2016, he was named First Team All-AAC. He led the country with 22.5 tackles for loss. He had 65 tackles, 10.5 sacks, one interception, three forced fumbles and one fumble recovery.
The Cardinals first round selection (13th overall) in the 2017 NFL Draft, Reddick was the first linebacker selected in the draft and the fifth defensive player chosen behind DE Myles Garrett (1st overall to Cleveland), DE Solomon Thomas (3rd overall to San Francisco), S Jamal Adams (6th overall to the Jets) and CB Marshon Lattimore (11th overall to New Orleans).
He became the first Temple player selected in the first round of the draft since the Jets took DT Muhammad Wilkerson 30th overall in 2011 and joins Wilkerson as the only Owls players selected in the first round in the last 30 years. Reddick is the third-ever Temple player drafted by the Cardinals and the first since 1943. He was awarded a Key to the City in a ceremony aboard the Battleship New Jersey the week he was drafted.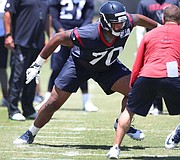 A native of Paulsboro, N.J., Davenport attended Paulsboro High School where he was a member of both the football and basketball teams. He was the team captain and all conference section in both football and basketball. He was named All-South Jersey selection in football and All Group 1 selection in basketball. He committed to Bucknell University on Feb. 6, 2013.
As a senior, Davenport earned First Team All-America honors from four organizations including the AFCA, Associated Press, STATS, and Walter Camp. He is the first Bison with four All-America honors in the same season since Bryce Robertson in 2011. He was also named to the Walter Peyton Award Watch List. He was the only member in his senior class to start all 44 games from 2013-16. He blocked for a 1,000 yard rusher in Joey DeFloria (1,070 yards, 10 TDs) as well as No. 2 running back Chad Freshnock, who has another 604 yards and 10 touchdowns.
The Houston Texans selected Davenport in the fourth round (130th overall) of the 2017 NFL Draft. On May 12, the Texans signed Davenport to a four year deal. As of Week 5, Davenport has played in four games and has started in one.