Tamar Braxton's mom accuses Vincent Herbert of abuse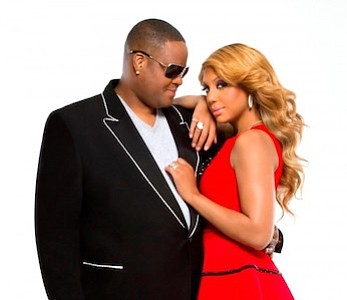 Some have called it a publicity stunt to boost ratings for the season premiere of their reality show, "Tamar & Vince," but it seems that Tamar Braxton and Vincent Herbert's separation is the real deal. And according to TMZ, Braxton's mother, Evelyn, is happy her daughter has finally left the music manager, whom she accuses of abusing Braxton.
"I love Vince, but I don't want him to kill my child. As simple as that," Evelyn told TMZ on Saturday. He needs to "keep his hands off of my child. Stop before he hurts her or kills her."
She went on to say that Herbert needs counseling, telling TMZ: "I think that if a person really means what they're doing, then they'll go and get help," she said. "I think he needs to go and get counseling before someone gets killed."
Braxton filed for divorce last month after nearly nine years of marriage, but according to published reports, the "Love & War" singer moved out of the marital home several months ago and the two have been putting on an act, presenting themselves as a happy couple, while promoting their reality show.
"At this time, we can confirm Ms. Braxton has made an extremely difficult decision and has filed for divorce from Vincent Herbert," her rep told People magazine. "Collectively, their son, Logan, and his well-being during this extremely unfortunate process is most important. We ask that everyone respects her privacy during this incredibly difficult time. She appreciates everyone's love and prayers."
Braxton and Herbert's marriage has been rocky for years, but they have been trying to work things out, Braxton told "Entertainment Tonight" in September. "There's a lot of things that are going on in my relationship, and me being close to this music industry, and whatever I can do to eliminate all of the stress and problems off of my relationship, I would rather do that," she told the entertainment show. "My husband and I work very close together, and it's really hard, you know." she continued. "Not only do we work together, he is my baby daddy and, you know, we've been together forever. He's my best friend. It's a lot of things to discuss and argue about."
But some are saying the straw that broke the camel's back was when Braxton was dropped from the daytime talk show, "The Real," last year. The firing put Braxton in a deep state of depression, which "compounded an already teetering relationship," according to TMZ.
Fans will see the couple's relationship woes play out on Season 5 of their reality show, "Tamar & Vince," which premieres Thursday on WEtv.
Follow me on Twitter @ShondaMcClain.