Ex-police chief indicted on hate crimes
A white former New Jersey police chief charged with assault, slurs against African Americans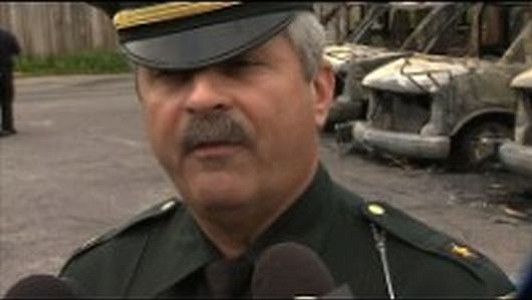 A retired ex-police chief in South Jersey used excessive force against a young African American man and regularly referred to African Americans as the N-word and other racial slurs, according to a federal complaint unsealed in U.S. District Court in Camden.
Frank Nucera Jr., 60, was arrested and taken into custody at his Bordentown home on Nov. 1 by federal investigators executing an arrest warrant against the ex top cop. Nucera had been under investigation by the FBI since January.
According to published reports, Nucera used excessive force on an 18-year-old African American man on September 1, 2016 at a South Jersey Ramada Inn Hotel. Nucera allegedly slammed the head of the suspect into a metal door post while the suspect was handcuffed and not resisting. "The complaint alleges that the defendant harbored intense racial animosity towards African Americans," U.S. Attorney William Fitzpatrick said in a media release. The report goes on to claim that Nucera had a long and documented history of racial bigotry toward African Americans—with some of his racist vitriol and animus secretly recorded by one his officers. In one instance in November 2015, Nucera is overheard comparing black people to the radical militant group ISIS. "These nirs are like ISIS, they have no value. They should line them all up and mow 'em down. I'd like to be on the firing squad," he said. In another instance, Nucera refers to African Americans as "Moulinyans"--an Italian slur and epithet for African Americans. He is also accused of frequently using police attack dogs to intimidate and threaten African Americans at various public sporting and community events in South Jersey. "The conduct alleged is a shocking breach of the duty of every police officer to provide equal justice under the law and to never mistreat a person," Fitzpatrick said.
Nucera becomes the latest in a series of New Jersey law enforcement officials accused of abuse, excessive force and racism in recent years. For example, earlier this year the police chief of Maplewood was put on administrative leave and faces discrimination charges following an incident involving a directive from him to march a group of black teens out of town. In 2016, two Vineland police officers were acquitted in the beating death of 32-year-old Phillip White. Cell phone video of White, an African American, showed two officers punching and kicking him. White died of respiratory failure while in police custody following an altercation with officers at his Vineland residence.
Finally, Nucera waived his preliminary hearing and was allowed to return home on Nov. 1 after being ordered to relinquish his firearms and passports to the feds. If convicted of all counts, Nucera could face up to 20 years in prison and a $250,000 fine. The trial is expected to begin early next year.