Republicans defend health bill with false statements
Charles Ornstein, ProPublica | 5/28/2017, 4:02 p.m.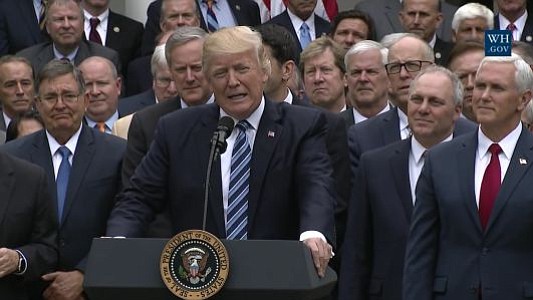 The current law's penalties on individuals who do not purchase insurance and on employers who do not offer it would be repealed retroactively to 2016, which could remove the incentive for some employers to offer coverage to their workers. Moreover, beginning in 2018, older people could be charged premiums up to five times more than younger people — up from three times under current law. The way in which premium tax credits would be calculated would change as well, benefiting younger people at the expense of older ones, Jost said.
"It is certainly not correct to say that everything stays the same for the next three years," he wrote.
In an email, Hartzler spokesman Casey Harper replied, "I can see how this sentence in the letter could be misconstrued. It's very important to the Congresswoman that we give clear, accurate information to her constituents. Thanks for pointing that out."
Other lawmakers have similarly shared incorrect information after voting to repeal the ACA. Rep. Diane Black, R-Tenn., wrote in a May 19 email to a constituent that "in 16 of our counties, there are no plans available at all. This system is crumbling before our eyes and we cannot wait another year to act."
Black was referring to the possibility that, in 16 Tennessee counties around Knoxville, there might not have been any insurance options in the ACA marketplace next year. However, 10 days earlier, before she sent her email, BlueCross BlueShield of Tennessee announced that it was willing to provide coverage in those counties and would work with the state Department of Commerce and Insurance "to set the right conditions that would allow our return."
"We stand by our statement of the facts, and Congressman Black is working hard to repeal and replace Obamacare with a system that actually works for Tennessee families and individuals," her deputy chief of staff Dean Thompson said in an email.
On the Democratic side, the Washington Post Fact Checker has called out representatives for saying the AHCA would consider rape or sexual assault as pre-existing conditions. The bill would not do that, although critics counter that any resulting mental health issues or sexually transmitted diseases could be considered existing illnesses.
Euphemisms
A number of lawmakers have posted information taken from talking points put out by the House Republican Conference that try to frame the changes in the Republican bill as kinder and gentler than most experts expect them to be.
An answer to one frequently asked question pushes back against criticism that the Republican bill would gut Medicaid, the federal-state health insurance program for the poor, and appears on the websites of Rep. Garret Graves, R-La., and others.
"Our plan responsibly unwinds Obamacare's Medicaid expansion," the answer says. "We freeze enrollment and allow natural turnover in the Medicaid program as beneficiaries see their life circumstances change. This strategy is both fiscally responsible and fair, ensuring we don't pull the rug out on anyone while also ending the Obamacare expansion that unfairly prioritizes able-bodied working adults over the most vulnerable."