Republicans defend health bill with false statements
Charles Ornstein, ProPublica | 5/28/2017, 4:02 p.m.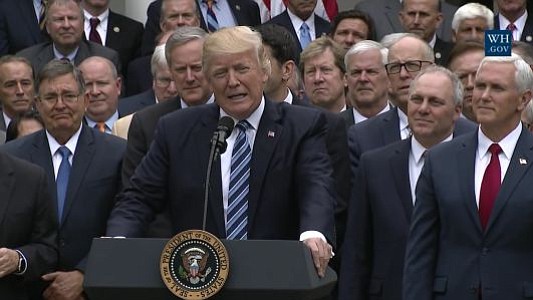 This story was co-published with Stat and Kaiser Health News.
A day after the House of Representatives passed a bill to repeal and replace major parts of the Affordable Care Act, Ashleigh Morley visited her congressman's Facebook page to voice her dismay.
"Your vote yesterday was unthinkably irresponsible and does not begin to account for the thousands of constituents in your district who rely upon many of the services and provisions provided for them by the ACA," Morley wrote on the page affiliated with the campaign of Rep. Peter King, R-N.Y. "You never had my vote and this confirms why."
The next day, Morley said, her comment was deleted and she was blocked from commenting on or reacting to King's posts. The same thing has happened to others critical of King's positions on health care and other matters. King has deleted negative feedback and blocked critics from his Facebook page, several of his constituents say, sharing screenshots of comments that are no longer there.
"Having my voice and opinions shut down by the person who represents me — especially when my voice and opinion wasn't vulgar and obscene — is frustrating, it's disheartening, and I think it points to perhaps a larger problem with our representatives and maybe their priorities," Morley said in an interview.
King's office did not respond to requests for comment.
As Republican members of Congress seek to roll back the Affordable Care Act, commonly called Obamacare, and replace it with the American Health Care Act, they have adopted various strategies to influence and cope with public opinion, which polls show mostly opposes their plan. ProPublica, with our partners at Kaiser Health News, Stat and Vox, has been fact-checking members of Congress in this debate and we've found misstatements on both sides, though more by Republicans than Democrats. The Washington Post's Fact Checker has similarly found misstatements by both sides.
Today, we're back with more examples of how legislators are interacting with constituents about repealing Obamacare, whether online or in traditional correspondence. Their more controversial tactics seem to fall into three main categories: providing incorrect information, using euphemisms for the impact of their actions, and deleting comments critical of them.
Incorrect Information
Rep. Vicky Hartzler, R-Mo., sent a note to constituents this month explaining her vote in favor of the Republican bill. First, she outlined why she believes the ACA is not sustainable — namely, higher premiums and few choices. Then she said it was important to have a smooth transition from one system to another.
"This is why I supported the AHCA to follow through on our promise to have an immediate replacement ready to go should the ACA be repealed," she wrote. "The AHCA keeps the ACA for the next three years then phases in a new approach to give people, states, and insurance markets plenty of time to make adjustments."
Except that's not true.
"There are quite a number of changes in the AHCA that take effect within the next three years," wrote ACA expert Timothy Jost, an emeritus professor at Washington and Lee University School of Law, in an email to ProPublica.