Cavaliers vs. Warriors: A Remarkable Matchup
Maya Hughes | 5/28/2017, 4:54 p.m.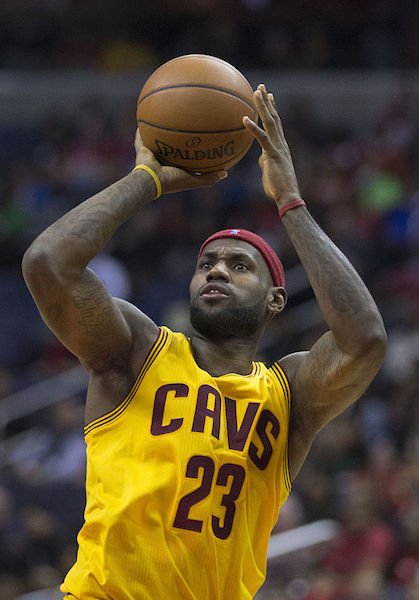 For the first time in league history, the NBA Finals matchup will be the same for a third straight year, with both the Golden State Warriors and the Cleveland Cavaliers.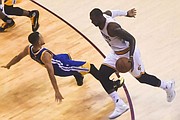 During the regular season the Cavaliers and Warriors split their two meetings this season, both winning at home. Cleveland won by one on Christmas Day, Golden State prevailed by 35 on Jan. 16.
Golden State led the league with 67 wins this season and is a staggering 27-1 in its last 28 games – including a perfect 12-0 in the Western Conference playoffs, the first time a team has gone this deep into an NBA postseason without losing. Cleveland, which seemed mediocre at times in the regular season, went 12-1 in the Eastern Conference playoffs that ended with a win over Boston Celtics on May 25.
This will be a star-studded Finals, with seven All-Stars on the two rosters — LeBron James, Kyrie Irving and Kevin Love for Cleveland, and Kevin Durant, Stephen Curry, Klay Thompson and Draymond Green for the Warriors.
For James, this will be the seventh straight NBA finals. For Durant, this trip ends a five year wait. Durant's only other time in the Finals was 2012 when he was with Oklahoma City Thunder. The Thunder lost to the Miami Heat in five games, a series that made James a champion for the first time.
Cleveland will need greatness from James, who carried the team through its first 13 games with an impressive mix of accurate shooting and efficient scoring to go with his usual passing, rebounding and defense.
The Warriors have an advantage when it comes to depth and versatility. In last year's Finals, by the time Game 7 came around and both teams were fatigued, Golden State was unable to get any late-game scoring, instead choosing to jack up off-target 3-pointers for the final four minutes. Durant, adept at getting to the basket and being accurate when shooting from 15-18 feet, should change that dynamic, giving the Warriors a dimension they did not have last year.
Almost 20 percent of Golden State's playoff possessions came on the break, according to NBA.com. Not only are they very capable of getting to the rim in those situations, they have a knack for knocking down transition 3s, which can be big-time momentum-builders. The Cavs will have to keep the Warriors in the half court as much as possible.
Prediction:
Even with a Game 3 loss in the conference finals, the Cavaliers enter the Finals firing on all cylinders. Their "Big Three" of Love, Irving and James was outstanding in closing out the Celtics, and they've gotten some nice contributions from the likes of Kyle Korver and Deron Williams off the bench.
But they can't keep pace with the Warriors. The Cavs and Warriors went seven games last year, and Cleveland returns with much of the same lineup this time around. Golden State has lost Andrew Bogut and Harrison Barnes, but they brought in Durant and his playoff performance to date — 25.2 points on 55.6 percent shooting — have been exactly what the Warriors wanted when they signed him last July. The Warriors will ultimately win the finals.
2017 NBA Finals Schedule (All Games Televised on ABC)
Game 1: Cleveland at Golden State, Thursday, June 1 at 9 p.m. ET
Game 2: Cleveland at Golden State, Sunday, June 4 at 8 p.m. ET
Game 3: Golden State at Cleveland, Wednesday, June 7 at 9 p.m. ET
Game 4: Golden State at Cleveland, Friday, June 9 at 9 p.m. ET
*Game 5: Cleveland at Golden State, Monday, June 12 at 9 p.m. ET
*Game 6: Golden State at Cleveland, Thursday, June 15 at 9 p.m. ET
*Game 7: Cleveland at Golden State, Sunday, June 18 at 8 p.m. ET
*If necessary