Yara Shahidi gets 'black-ish' spinoff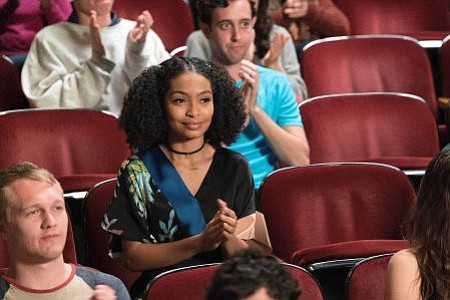 Life is imitating art for Yara Shahidi.
The 17-year-old "black-ish" actress is going to college – in real life and on television.
"I did get all of my college acceptances and I'm keeping them close to the belt as of right now, but I got into every college I applied to," Shahidi, who plays Zoey Johnson on the ABC comedy, told Seventeen magazine.
But the actress, who plans to study African-American history and sociology, will not be going to school immediately. She plans to defer a year, like Malia Obama, to continue working on a new "black-ish" spinoff called "College-ish," which follows her character, Zoey, to college.
The show, which will air on Freeform, will debut in 2018. According to Variety, "College-ish" will center around Zoey's character as she heads off to college and realizes that things are not as easy as she thought … similar to the "Cosby Show" spinoff "A Different World," staring Lisa Bonet. "black-ish" co-star Deon Cole will join Shahidi on "College-ish," reprising his role as Charlie who works as an adjunct professor. The rest of the cast will be new.
Freeform is the sister network to ABC, which airs "black-ish." It has a younger demographic which is perfect for the younger-skewing "College-ish." The show will be executive produced by "black-ish" creator Kenya Barris, along with Anthony Anderson, Laurence Fishburne, Helen Sugland and Brian Dobbins.
"I never thought they'd let me put 'black-ish' on the air, let alone give me a spinoff," Barris told Variety. "I couldn't be more excited for the opportunity to continue working with Yara and the rest of this talented young cast. To any aspiring writers struggling to make it out there, I highly advise adding an 'ish' to any working title you might have. It seems to be the move."
Follow me on Twitter @ShondaMcClain.