Rowan students showcase their STEM research at 20th annual symposium
Rowan Today | 5/7/2017, 8:37 a.m.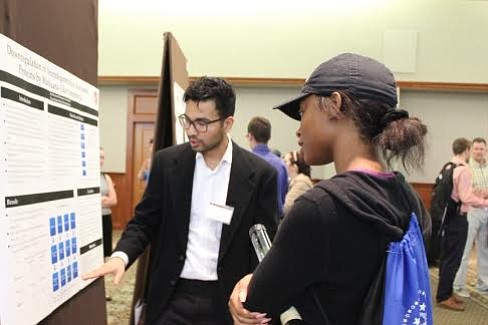 Smart parking. Water access. Schizophrenia and drug addiction. Downtown Camden traffic improvements. Aquatic turtles. Drug distribution via contact lenses. Storm resiliency.
Twenty years, and the STEM (Science, Technology, Engineering and Mathematics) Symposium at Rowan University still is going strong.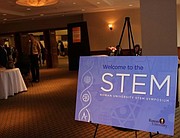 Coordinated by Dr. Gregory Hecht, Biological Sciences, the STEM Symposium this year welcomed more than 400 students and more than 75 faculty members – primarily from the College of Science & Mathematics, Henry M. Rowan College of Engineering and School of Osteopathic Medicine – who gave poster presentations on research they conducted during the last year.
The teams showcased more than 175 projects – many multidisciplinary – that may have the potential to impact health care, the environment, transportation, animals and more.
Anthony Fasolo, 23, a senior electrical and computer engineering major from Newton, worked on Storm Resiliency Visualization, which in part used virtual reality to address the impact of weather on municipalities.
The STEM Symposium, he said, is essential because it encourages collaborations, which are "important for the advancement of science."
Laura McCracken, 22, a senior biochemistry major from Monroeville, was part of a team working on "Testing IBNtxA for Treatment of Opioid Dependency Using Animal Drug Discrimination Procedures." She and her team learned that a synthetic version of morphine was less addictive in treating opioid dependency.
The STEM Symposium, which fills the Eynon Ballroom in the Chamberlain Student Center for four sessions, is a highlight for researchers.
"The importance of the symposium is to celebrate the work done by our students in the multifaceted areas of research in the University," said Dr. Kenneth Blank, senior vice president for Health Sciences. "It's also an opportunity for faculty and students to foster collaborations among the different colleges by identifying other laboratories working in related fields."
Source: Rowan University