BUZZ
If you have been jonesing for Michelle Obama – and who hasn't these days – you will be happy to know that the former first lady will guest star on an episode of "Masterchef Junior" with Gordon Ramsay. The show features kids from ages 8 to13 who flex their culinary skills for prizes and bragging rights.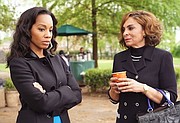 Fans of "A Different World" were pleased to see Jasmine Guy working again on "The Quad," but some HBCU presidents are not too happy with the BET show's presentation of Black colleges. In fact, Hampton University's president, Dr. William R. Harvey was so upset, he sent a stinging, three-page letter to BET president Debra Lee, which, in part, read:
"Devoid of any reference to academics, The Quad is about a president who is promiscuous, trustees who are unwilling to deal with a rogue band director, and a band director who condones criminal activity on the part of his drum major. The Quad will lead many to believe that HBCUs exist because of marching bands; that our presidents are unethical; that our boards are dysfunctional and have misplaced priorities; that our faculty, students and administrators are driven by sex, alcohol, marijuana, low self-esteem, parties and a preoccupation with music; that it is acceptable to disrespect women; that university policy can be set by a band director; and that there are no standards of conduct or penalties for bad behavior. This depiction seems more analogous to a disgruntled, adolescent and unrealistic point of view that some may have. It also feeds a false narrative about the irrelevance of HBCUs."
Ouch!
Harvey's letter continued: "We cannot afford this kind of storytelling. It amounts to the type of 'fake news' that is prevalent today. You see, all that most people know about HBCUs is what they see on television. What I saw on BET February 1st was not accurate; rather, it was a bogus representation of very important and historic institutions."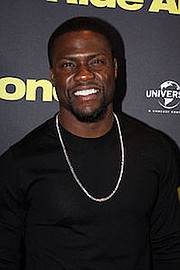 Comedian Kevin Hart has lived an interesting life and the diminutive funny man wants to share all – the ups and downs, the highs and the lows, the funny and not-so-funny – with his fans. Hart is penning his memoir, "I Can't Make This Up," which will focus on his life, career, marriages and his rise to Hollywood box office gold. In the meantime, Hart is in his hometown, Philadelphia, filming "Untouchable," a comedy starring Bryan Cranston and Nicole Kidman. The film is a remake of the French movie "The Intouchables," and features Cranston as a quadriplegic millionaire and Hart as his caretaker. The original film was an international hit that raked in nearly $426 million worldwide. Hart posted on Instagram: "Working with Bryan Cranston is absolutely incredible. I can't wait for you guys to see our version of this film." "Untouchables" hits screens in 2018, but fans will not have to wait as long for Hart's book, which will be released in June.
Texas lawyer Rachel Lindsay is looking for true love and she hopes to find it on reality TV. Lindsay will make history when she makes her debut as the first African-American bachelorette on ABC's popular dating reality series "The Bachelorette." The kissing and crying starts May 22 at 9 p.m. on ABC.