96-year-old election poll worker knows the importance of voting
Laura Wooten has been helping New Jersey voters at the polls for more than 70 years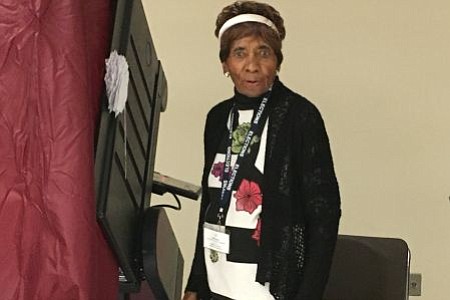 Laura Wooten is a social and community activist whose lifelong service exemplifies her commitment to heed the pervasive cry to get out and vote--Wooten has worked as a poll worker in the Garden state for more than 70 years.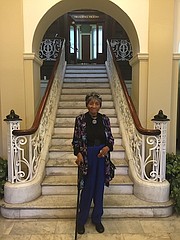 As a member of the Princeton Board of Elections, Wooten has been at the forefront of guiding New Jersey voters through the voting poll centers for as long as anyone can remember. The 96-year-old grandmother and native of Goldsboro, NC, moved to Princeton when she was about 4 years old. While changes in the world of voter registration and politics have been plentiful and frequent, Wooten said one of the biggest changes she has seen is tremendous voter apathy. She added that millennials have become less engaged in the political process than ever before. "There was a time when everyone used to vote," she said. "Not any more...young people are hard to reach and they are unconcerned with politics and the political process." An example of this disengagement was apparent in the shocking results of the 2016 presidential election in which political neophyte Republican Donald Trump defeated Democrat Hilary Clinton. Pollsters and political pundits contend a key factor in Clinton's stunning loss was due to low voter turnout by African American and Latino millennials—historically, a dedicated Democratic base of voters. "Young people are hard to reach," Wooten said. "A lot of them think their votes don't count, but one vote does count."
Wooten's five children, four of which still live in New Jersey, learned at a young age the importance of voting and how the political process could enhance or hinder their future. "We grew up knowing that every Election Day, our mother would be gone in the morning before we got up and wouldn't return until late at night—sometimes after we had already gone to bed," said daughter Yvonne Wooten Hill. "We saw early on the emphasis she put on exercising the right to vote and we have been voting since we were first old enough to do so."
Wooten said the progress African Americans have made in getting the right to vote should not be taken for granted or ignored—it should be utilized and perhaps, even celebrated. For example, the election of Barack Obama as the first African American president was a monumental occasion for Wooten. "I was overjoyed to see an African American in the White House," she said. "I never thought it would happen in my lifetime, but I was happy when it did."
However, Obama was not Wooten's favorite American president. She said John F. Kennedy ranks as her first choice because of all of the positive changes JFK implemented for African Americans---including civil rights and racial integration. Wooten's favorite governor of New Jersey was Robert Meyner, who served as head of the state from 1954 to 1962.
A 1939 graduate of Princeton High School, Wooten spent 18 years as a nurse's aide at the University Medical Center of Princeton. She worked as a teacher's assistant and a dining services employee at Princeton University.
Lastly, despite receiving proclamations and accolades from several local and state agencies, including the New Jersey State Senate, Wooten is modest and humble about her personal and community-based achievements.
She says she wanted to" set an example for other members of the community…"