The King of Rock, Chuck Berry, has died
1926-2017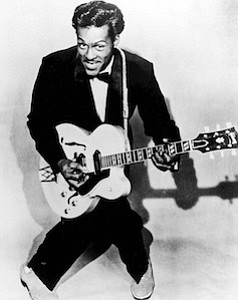 Chuck Berry, the father of rock and roll, who helped define the genre's rebellious spirit during the 1950s has died. He was 90.
The legendary singer died in his home in St. Charles County on March 18, according to St. Charles County police, who responded to an emergency call at the singer's home and rendered life saving techniques but were unable to revive him. A cause of death has not been reported, however, Berry's son, Charles Jr., recently told Rolling Stone that he had suffered a bout of pneumonia.
Upon hearing of Berry's death, tributes began to pour in.
The Rolling Stones said in a statement: "He was a true pioneer of rock & roll and a massive influence on us. Chuck was not only a brilliant guitarist, singer and performer, but most importantly, he was a master craftsman as a songwriter. His songs will live forever."
"It started with Chuck Berry," Rod Stewart said in a statement. "The first album I ever bought was Chuck's 'Live at the Tivoli' and I was never the same. He was more than a legend; he was a founding father. You can hear his influence in every rock & roll band from my generation on. I've been performing his 'Sweet Little Rock & Roller' since 1974 and tonight, when my band and I perform it at Caesars Palace's Colosseum, it'll be for Chuck Berry — your sound lives on."
The architect of rock and roll and one of the most influential musicians in history, Berry was among the inaugural inductees into the Rock and Roll Hall of Fame in 1986, along with Little Richard, Elvis Presley, Buddy Holly, James Brown, Jerry Lee Lewis, Ray Charles, Sam Cooke, Fats Domino and the Everly Brothers.
"While no individual can be said to have invented rock and roll, Chuck Berry comes the closest of any single figure to being the one who put all the essential pieces together," reads Berry's induction into the Rock and Roll Hall of Fame in 1986.
Born Oct. 16, 1926 in St. Louis, Mo., Charles Edward Anderson Berry grew up playing the guitar. Although music was his first love, he worked on an assembly line at General Motors and trained to be a hairdresser before forming a band in 1952. After recording "Maybellene" at the age of 30, in 1955, Berry was signed to Chess Records, the home of Muddy Waters
The song — a story of a man in a Ford V8 chasing his unfaithful girlfriend in a Cadillac Coupe de Ville — charted No. 1 on Billboard's rhythm-and-blues chart and No.5 on the pop music charts, according to The Washington Post. Born in the blues and steeped with rhythm and imagination, Berry penned more than 100 songs, many of which topped the charts and have stood the test of time, including "Roll Over Beethoven," "School Day" "Rock and Roll Music," "Sweet Little Sixteen," the durable "No Particular Place to Go" and "Dear Dad."
Despite the indignities of racism and segregation, Berry would become one of the biggest rock stars of all time. He was one of those rare musicians who wrote, sang and played his own music and his songs were so interwoven into the fabric of America that his record, "Johnny B. Goode," was included on a disc launched into space on the Voyager 1 spacecraft in 1977.