First Black Astronaut Remains a Forgotten Pioneer
Erick Johnson (Chicago Crusader/NNPA Member) | 3/4/2017, 12:16 p.m.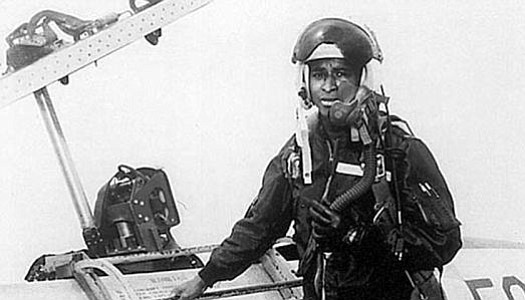 Two historic events that changed America occurred 50 years ago. While many will remember the 50th anniversary of the failed Apollo 1 space flight, an equally historic event that affected Black America remains largely forgotten.
The 50th anniversary of the tragic death of America's first Black astronaut, Major Robert H. Lawrence, will perhaps go unnoticed in 2017. Lawrence was a determined individual whose career into space never got off the ground. Like the three, White astronauts who perished during a fire on the Apollo 1 flight, Lawrence's dreams of orbiting the earth also ended in tragedy.
Ambitious and fearless, he aspired to venture to the moon at a time when people of color were not wanted in parks, restaurants, and neighborhoods here on earth.
Lawrence's launching pad was his hometown of Chicago, where he blasted through high school and graduated at just 16 years old. Poor and Black, Lawrence faced tremendous odds against breaking into the National Aeronautics and Space Administration's (NASA) lilywhite stratosphere, but when he did, he became America's first Black astronaut.
Black pride turned to sorrow after Lawrence was killed in a jet crash at Edwards Air Force Base in California. The accident happened just 11 months after an electrical fire aboard a rocket in flight killed three Apollo I astronauts on January 27, 1967. This year marks the 50th Anniversary of the deaths of four astronauts, but NASA and America have remembered the three astronauts in the Apollo 1 disaster as heroes, with special commemorations, while Lawrence remains a forgotten pioneer whose memory has been lost.
Robert Lawrence contributions to NAS reinvigorated Black America, but there won't be any ceremonies and special events to mark the 50th Anniversary of his untimely death. Lawrence's struggle remains the same in death as it was in life: getting recognized as an astronaut at NASA.
Despite campaigns and efforts to recognize his contributions, Lawrence's legacy is drifting like a wayward space satellite. Once a celebrated pilot who flew over 2,500 miles, Lawrence today is rarely honored on the same level as other NASA astronauts who have gone on the ultimate mission.
Schools and scholarship funds named after Lawrence have vanished, and with Lawrence's most avid crusaders of his legacy gone (his wife, mother and other relatives), the legacy of a man who inspired many Blacks to dream big has faded over five decades.
Before the release of the movie, "Hidden Figures," many Blacks were unaware of the historic contributions of Black NASA mathematicians Katherine Johnson, Mary Jackson and Dorothy Vaughan. Though it was Johnson's use of analytic geometry that helped bring John Glenn back to Earth, she was among the few Black heroes who toiled, unsung, behind the scenes at NASA, where only three percent of 19,000 employees were Black in 1961. Morehouse, Tuskegee University (then Tuskegee Institute) and other historically Black schools were cranking out physicists, scientists and mathematicians every year, but many did not apply to NASA. Some Black leaders accused NASA of not working hard enough to recruit minorities.