Newark Mayor Ras Baraka announces re-election plans
Newark target of Trump sanctuary city crackdown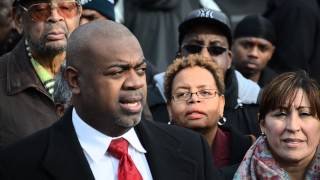 Hoping to continue lead the biggest city in New Jersey, Newark Mayor Ras Baraka on June 22 announced his plans to run for a second term.
Baraka, who has sat at the helm of Newark since 2014 —replacing former mayor Cory Booker who moved on to the Senate—touted his accomplishments as head of the city for the past three years to a group of Newarkers and others in front of City Hall—including Democratic political heavyweights candidate for governor Phil Murphy and former governor Richard Codey. Baraka said a drop in unemployment; an increase in real estate development and a beefed up police presence throughout the city have occurred under his watch.
"We need to continue to move forward and make it a safe and secure city for all of our citizens," he said.
However, the bid for re-election comes at a critical time for Baraka and the city of Newark. Among other things, Newark is a designated "sanctuary city"-- a city that protects undocumented immigrants from deportation and only detains them when ordered by a magistrate. President Donald Trump has repeatedly threatened to withhold federal funds from sanctuary cities that fail to effectively implement a presidential executive order to ultimately deport undocumented citizens. An outspoken opponent of the mandate, Baraka, last week, signed his own executive order highlighting several items including a provision that Newark will protect undocumented citizens and target those immigrants that engage in illicit activities. Baraka said the Trump policy "is an attempt to intimidate local officials into becoming fugitive slave catchers." Efforts to enforce the President's policy received a major blow in late April when a federal judge blocked any effort by the Trump administration to suspend funding from sanctuary cities. The Trump administration has vowed to amend and enforce the order.
The mayoral election will be held in May 2018.