Aisha Tyler says goodbye to 'The Talk'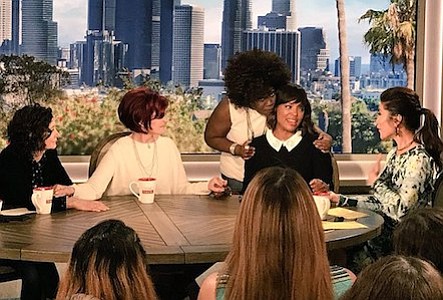 An emotional Aisha Tyler announced on Thursday that she is leaving her daytime talk show "The Talk."
Tyler, 46, fought back tears as she told the live audience and her co-hosts of her decision.
"I have had an amazing six years with you guys," Tyler said. "We've had babies and weddings, and you know good things have happened, and you know I went through the biggest breakup of my life with you. I could not have done with this without you. I'll never be able to thank you guys enough for your friendship."
The busy actress/comedian is leaving the show after six years to make room for other career endeavors, including directing – something she became passionate about after directing her first feature film, "Axis," a film about an Irish actor who has to confront the demons of his past on the eve of starring in his first major film.
"I knew that was what I wanted to do the rest of my life, what I wanted to put my energy into, and I started to think about it and could not see how that would work," she added. "I just realized I had to let something go."
In addition to her daytime gig on CBS, Tyler also works on "Criminal Minds," hosts "Whose Line Is It Anyway?" on The CW and voices a character on the hit FX series, "Archer."
"People always go, 'How to you do all that?' And I don't always have an answer," she said, adding, "I'm very lucky to be this busy."
Tyler said she will leave the show after the end of this season in July, but she will be back as a guest and drop-in host when her schedule permits.
A replacement for Tyler, who shares co-hosting duties with Sheryl Underwood, Julie Chen, Sara Gilbert and Sharon Osbourne, has not been announced.
Follow me on Twitter @ShondaMcClain.