Michael Vick retires as a Falcon
Maya Hughes | 6/12/2017, 9:04 p.m.
In May, former Philadelphia Eagles quarterback Michael Vick said in an interview how he would love to retire as an Atlanta Falcon, the team where he started his career. Vick will finally get his wish as the Falcons will not only honor him, but also former Falcons wide receiver Roddy White in a retirement ceremony on Monday, June 12.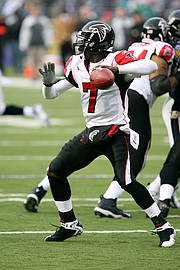 "We consider all former Falcons to be Falcons for life, and part of our family," said Falcons team owner Arthur Blank in a press statement. "Both men have made a huge impact on my family, our franchise and this city and we are thrilled to be able to honor both Roddy and Michael's wishes to retire as Falcons, and celebrate their careers."
Vick was drafted No. 1 overall by the Falcons in 2001. He spent six seasons with the team where he completed 930 passes for 11,505 yards and 71 touchdowns, as well as rushed for 3,859 yards and scored 21 touchdowns on 529 runs. Those accolades earned Vick three Pro Bowl appearances.
However, Vick's career was derailed in 2007 after he was found guilty of a federal dog fighting charge. After serving 19 months in prison for his conviction, Vick did not return to the Falcons, but instead found spots with the Philadelphia Eagles, New York Jets and Pittsburgh Steelers, for whom he last played in 2015. In his 13-year NFL career, Vick threw for 22,464 yards and 133 touchdowns. He also rushed for 6,109 yards and 36 touchdowns in his career.
White spent his entire 11-season career with Atlanta, racking up 808 receptions for 10,863 yards and 63 touchdowns. Those all remain franchise records, according to the team, despite the fact that White stopped playing in 2015. He made four Pro Bowl appearances.