Camden company works to ensure water, air safety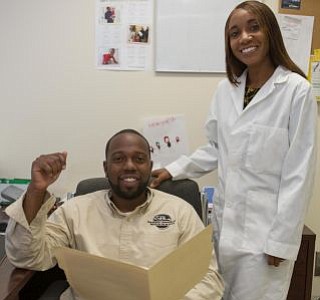 When Rafiq and Tiffany Heigler started their business, Sure-BioChem Laboratories (SBL) (www.surebiochem.com) in Camden, NJ in 2009, breathing fresh air and drinking a clean and toxin-free glass of tap water were considered simple and mundane tasks for most people. However, with the on-going water crisis in the city of Flint, Michigan; mandatory and frequent boil water orders in communities across New Jersey and the release of a recent report that ranked New Jersey as the 4th worst state in the country for violating federal drinking water mandates—maintaining the environment, or at least trying to keep it safe has become a passion of sorts for the young South Jersey couple.
A deteriorating infrastructure, budget cuts, shortcuts in proper testing protocols and systemic racism were just some of the key issues that lead to the on-going water crisis in Flint. The Michigan city of about 100,000 residents is a mostly impoverished and African American urban core that is strikingly similar to Garden State locales including Camden, Trenton and Paterson. "Many of the things that facilitated the water crisis in Flint, could easily happen here in New Jersey and may already be happening here to some degree," said Rafiq Heigler, Vice President of SBL. "Since the crisis in Flint, our company has seen an increase in business and inquiries centered on water and air quality testing," he said in a recent interview with the South Jersey Journal. Heigler along with his wife Tiffany, who is president and chief scientist, own and operate the booming small business. With 13 employees and annual revenues ranging between $1 million and $3 million, SBL provides water testing, air quality control measuring and environmental monitoring. The company is the only African American owned biochemical company in South Jersey that specializes in microbiology and chemistry analysis. It is also one of only a handful of certified minority and women owned business enterprise (M/WBE) bio chemical companies in the state.
Don't Drink the Water
New Jersey is not immune to the drinking water crisis that currently plagues America. In May, the National Resources Defense Council (NRDC)--an international think tank and environmental advocacy group based in New York City ranked New Jersey as the 4th worst state in the country for drinking water violations. The report, among other things, claimed state environmental agents were inefficient in monitoring water treatment quality compliance procedures. State officials dismissed the report claiming the reason New Jersey ranked poorly was due to missed water monitoring deadlines and not specific health violations related to toxic or unsafe drinking water. However, given recent negative publicity and public outrage related to unsafe drinking water and environmental issues in general, the report was troublesome and is not reassuring to many New Jersey residents. "New Jersey has one of the most extensive water testing guidelines in the country," Tiffany Heigler said. She added, "While the state may be one of the worst in country for drinking water violations, it does not necessarily indicate a reason for public health concern." Heigler said that for maximum contaminant levels in drinking water to reach the point where it becomes a public health concern. "It would take prolonged exposure to a particular contaminant over a significant period of time from the period when the water sample was taken," she said. "There are a number of factors to consider—other than a single water sample- when effectively evaluating the all-encompassing quality of a water system." Heigler said one thing to come out of the crisis in Flint is the need for consistent testing of the nation's water quality system. "Bio-chemical companies such as ours work to ensure that there are no prolonged exposures to dangerous contaminants and keep communities safe," she said.