Allen Iverson returns to Wells Fargo Center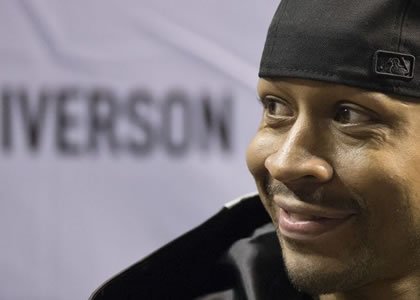 Fans in the area will be able to see former Philadelphia Sixers player and Hall of Famer Allen Iverson along with some of their favorite former NBA players as the BIG3 will be coming to the Wells Fargo Center in Philadelphia on July 16.
The BIG3 is a professional basketball league set up in a 3-on-3 concept that was co-founded by rapper and actor Ice Cube and entertainment executive Jeff Kwatinetz. Cube and Kwatinetz leaned on their fellow league executives, former NBA player and Players Association executive Roger Mason, Jr. and longtime Oakland Raiders CEO Amy Trask, in developing the structure and format of the league.
Players are competing for a revenue share based on final league standings. And if they aren't a captain or co-captain and their teams don't make the championship game, players will go back into the draft pool for next season — meaning they may not even be assured a job.
Games are played to 50 points, with halftime when the first team reaches 25. There is also a 4-point shot. Former top players such as Jermaine O'Neal, Rashard Lewis and Mike Bibby are playing captains, while coaches include Julius Erving, Rick Barry, George Gervin, Gary Payton, Clyde Drexler, Charles Oakley, Rick Mahorn and Iverson. Each roster of five players includes a captain and co-captain.
The season began on June 25 at Barclays Center in Brooklyn, N.Y. In addition to Philadelphia, other stops on the tour include Charlotte, Tulsa, Nashville, Dallas, Lexington (Ky.) and Los Angeles.
The BIG3 games are played every Sunday in a different city in a quadruple header at the same facility. Games are televised the following night at 8 p.m. on Fox Sports 1 in a "Monday Night Basketball" experience. The league championship game will be held on Aug. 28. The game will be televised on FOX at 4:30 p.m.
The BIG3 game at the Wells Fargo Center will start at 6 p.m. For ticket information call (800) 298-4200 or visit www.wellsfargocenterphilly.com. For more information on the BIG3, visit www.BIG3.com.
The Associated Press contributed to this article.