Cory Booker promotes Affordable Care Act
Senator encourages New Jerseyans to sign up by the end of January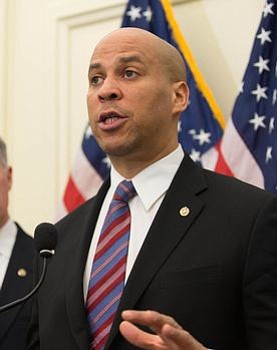 In an effort to promote and perhaps save President Obama's universal health care coverage legacy—Obama Care, Sen Cory Booker recently joined forces with U.S. Department of Health and Human Services Secretary Sylvia Burwell to urge New Jersey residents to sign up for insurance under the Affordable Care Act (ACA).
Booker and Burwell touted the historic health care plan following promises from incoming President-elect Donald Trump to dismantle the health care plan.
Trump nominated Georgia Republican Thomas Edmunds Price as the Secretary of Health and Human Services. Edmunds has been an outspoken opponent of Obama Care. "The trap that they're in is that Obama Care is actually working for millions of Americans and the Trump administration doesn't have a plan to replace it," Booker said during a press briefing in Newark.
Burwell agreed.
"One thing that's really important is to get the reality of what's happening in the marketplace and in health insurance in the country out to the public," she said. Burwell has been on a cross country sweep in the past few months informing and imploring Americans to sign up for coverage. Those who sign up for 2017 will be grandfathered into the plan and get to keep it, if and when the new Trump administration repeals the landmark legislation. According to various statistics more than 28 million Americans are still uninsured—with the vast majority being African Americans and Hispanics.
Open enrollment for the ACA extends through the end of January.