Christie signs bill to assists small businesses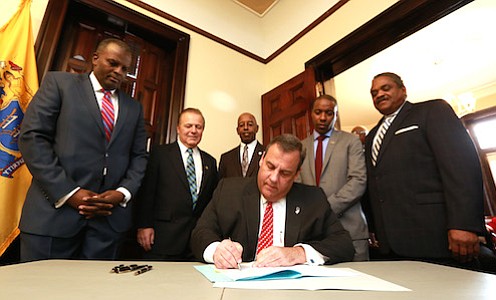 TRENTON - Governor Chris Christie signed into law that establishes the "Small Business Bonding Readiness Assistance Program" to assist small businesses in meeting State or federal contract surety bond requirements. This will be a revolving fund that will be administered by the New Jersey.
Christie signed into law, the first Bill of 2017, Senate Bill S-3064, co–sponsored by Senator Joseph Pennacchio, District 26, Senator Ronald L. Rice, District 28 and Assemblyman Jamel C. Holley, District 20, at the Headquarters of the African-American Chamber of Commerce of New Jersey.
The law will provide support services to small businesses and help them meet surety requirements so that they can qualify to secure bonding that will enable these firms to bid on public projects.
In attendance at the signing ceremony were AACCNJ Board of Directors, Foundation Board of Directors, Member Organizations, Partnership organizations, state agencies, state and local elected officials, and members of the Media:
Brenda Ross Dulan, Southern Region President, Wells Fargo
Bernie Flyn, President & CEO, NJ Manufacturers
George Sowa, CEO, Greater Trenton
Tom Bracken, President & CEO, New Jersey Chamber of Commerce
Avis Yates Rivers, President, Technology Concepts Group International
Lillie Hibbler-Britt, Ph. D., Campus College Chair, School of Business, University of Phoenix
Ramelle Massey, The Massey Agency
Agencies represented Department of Labor Workforce and Development, Economic Development Authority, Department of Community Affairs; media partners included South Jersey Journal Newspaper and Positive Community Magazine.
"This initiative will lend credibility to the efforts of legislators to increase participation of New Jersey's small businesses on public contracts because they will now have access to a mechanism that will assist these enterprises in obtaining bonding. This will be a game changer for small businesses in our state," said John E. Harmon, Sr., IOM, Founder, President & CEO, AACCNJ.