'Being Mary Jane' returns with new cast in new city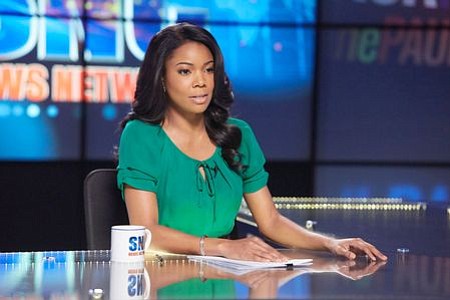 Despite the off-screen drama between "Being Mary Jane's" star Gabrielle Union and the show's network (she is suing BET for $3 million for breach of contract), the show must go on. And this time, the series is taking its show on the road.
Season 4 of "Being Mary Jane" returns to BET on Jan. 10 at 9 p.m. with Mary Jane Paul (Union) licking her wounds in the Big Apple after being "let go" from her former network, Satellite News Channel in Atlanta, and ending yet another failed relationship. With the help of her friend and former producer, Kara Lynch (Lisa Vidal), Mary Jane lands an entry-level job at "Good Day USA," a national morning news show based in New York, as a correspondent. It's a far cry from her former position as a news anchor, but she's willing to swallow humble pie and work her way back up the ranks.
Season 4 will also introduce some new faces, including Union's "Think Like A Man" co-star Michael Ealy. Fresh off of his role in ABC's "Secret and Lies," Ealy joins the cast as Justin Talbot, an ambitious news producer at "Good Day USA." He is also the man who is responsible for having Mary Jane fired from CNN a few years earlier. With the two of them working together, again, sparks are sure to fly.
Also joining the cast is Broadway veteran Valarie Pettiford, who plays Ronda Sales, a seasoned journalist and co-anchor of "Good Day USA." Known as "the Black Diane Sawyer" who "has it all," Mary Jane seeks out Ronda for career mentorship, but soon finds out things are not what they seem.
Spicing things up is Chike Okonkwo. Okonkwo plays Lee Truitt, a British comedian who pursues Mary Jane after they share a brief dalliance. He is not Mary Jane's type, but she finds herself falling for the funny man.
The return of "Being May Jane" was thrown a curveball earlier in the year when the show's creators and executive producers, Mara Brock Akil and Salim Akil, left BET for a production deal at Warner Bros. The Akils were replaced by executive producer Will Packer ("Think Like a Man") and Erica Shelton Kodish ("The Good Wife") who will serve as showrunner and executive producer.
"It's an amazing time to be involved in producing great television, and this is the rare opportunity to work with Gab, who I think is one of the best actresses doing it today, whom I also consider family," Packer told "The Hollywood Reporter." "BET is a tremendous partner, and Erica has the perfect skill set to handle a show of this magnitude."
Kodish added: "I'm honored to have an opportunity to partner with Will Packer, Gabrielle Union, and BET to create stories for 'Being Mary Jane.' "Mara Brock Akil has created a show that has a unique ability to address issues relevant to black women, and I'm thrilled to be in a position to tell those stories."
Follow me on Twitter @ShondaMcClain.