Tom Perez Elected Chair of Democratic National Committee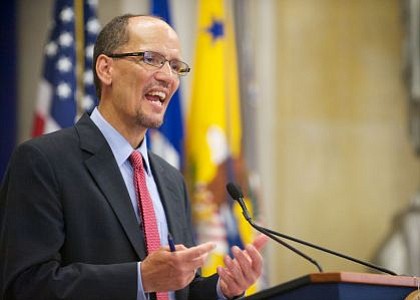 Tom Perez has been elected to serve as Chair of the Democratic National Committee.
Perez was elected Saturday at the DNC's Winter Meeting in Atlanta, DNC by members from across the country.
Congressman Keith Ellison of Minnesota was elected to serve as DNC Deputy Chair. Ellison was viewed as Perez's chief rival for the position.
Perez said the Democratic Party is at a critical time in history.
"We are at a turning point for our party and for all Americans. As I often say, this is a 'Where were ya?' moment," said Perez. "Years from now our children and grandchildren will ask us, 'Where were you when Donald Trump and his fellow Republicans attacked our values as a party and a country?' I want to be able to say I did everything in my power to fight back.
"That's why I got in this race - because January 20th was an important day, but January 21st was an even more important day. Millions of Americans stood up to say: Mr. President, your values are not our values.
"By getting back to basics, we can turn the Democratic Party around, take the fight to Donald Trump, and win elections from school board to the Senate.
"I'm humbled by this opportunity to lead our team, and that's exactly what we'll do together," said Perez who served in President Barack Obama's administration as Secretary of Labor.
Outgoing DNC Chair Donna Brazile said: "I'm honored to pass the gavel on to Tom Perez, a dynamic leader who I know will be a champion for our party and a fighter for our values. We are Democrats because we believe that every American deserves access to a good job with good pay, affordable health care, a secure retirement, and a quality education for their children. We are Democrats because we believe in the values of equality, opportunity, and justice for all Americans, no matter their background. I know that Tom Perez believes in these things, and I look forward to watching our party grow under his/her leadership. I am confident that together, we will be able to unify Americans around our shared values and elect Democrats up-and-down the ballot who will fight for those values and resist the harmful Trump-GOP agenda.
"While it will be bittersweet for me to leave this job and this tremendous organization, I'm confident that the future of the Democratic Party will be in good hands with Tom Perez. And I want to congratulate all of the candidates for a race well run."
The DNC held four regional forums for DNC members and the public to hear from candidates for officer positions of Chair, Vice Chair At-Large, Vice Chair for Civic Engagement and Voter Participation, Secretary, Treasurer, and National Finance Chair.