Ben Simmons' injury delays "the process" for Sixers
Maya Hughes | 2/26/2017, 6:43 p.m.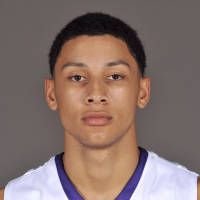 It's getting harder for Philadelphia Sixers fans to Trust the Process.
After missing the first 56 games of the season, Philadelphia Sixers rookie Ben Simmons was ruled out for the remainder of the 2016-17 campaign due to a foot injury. Simmons, 20, underwent a CT scan Feb. 24 after participating in practice drills during the past few weeks. He initially was expected to miss three months after having surgery on Oct. 4 to repair an acute Jones fracture in his foot.
This is an all too familiar scenario for Sixers fans, who have waited patiently to see their top prospects play in their first year. Nerlens Noel sat out a year with an ACL tear. Joel Embiid missed two years with a broken foot and is now dealing with knee issues. Dario Saric stayed overseas for two after he was drafted. Jahlil Okafor battles injuries last season. Now they must also wait for Simmons.
The Sixers drafted Simmons first overall after a single season at LSU that saw him average 19.2 points, 11.8 rebounds, 4.8 assists and 2.0 steals per game. He was Philadelphia's first No. 1 overall pick since Allen Iverson in 1996. With a young core that includes Embiid, Okafor, and Saric, the arrival of Simmons in 2017-18 if healthy may be the factor that finally pushes the Sixers back into contention in the East.