Sixers trade Nerlens Noel
Maya Hughes | 2/24/2017, 7:44 a.m.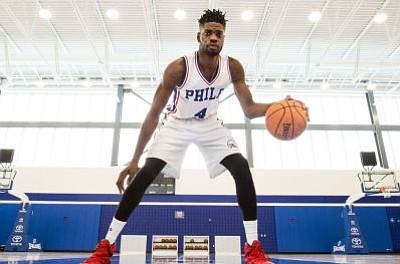 The Philadelphia Sixers traded Nerlens Noel to the Dallas Mavericks for guard-forward Justin Anderson, center Andrew Bogut and a 2017 first-round pick before the trade deadline. The Sixers entered the 2016-17 with three young post players, including Noel, Joel Embiid, and Jahlil Okafor. After the team won the 2016 draft lottery to secure the first pick and selected forward Ben Simmons, a trade became more likely.
The first-round pick headed to the Sixers is protected 1-18.The protection on the first-round pick headed to Philadelphia alters the perception of this trade. If the Sixers don't get the pick this year, it conveys into two second-round picks – one in 2017 and one 2018.
Noel, who is a restricted free agent after this season, is playing just 19.5 minutes per game, but his per-36 minute averages are enticing: 16.4 points, 9.2 rebounds, 2.7 steals and 1.7 blocks. He will be able to help Dallas offensively and defensively.
Anderson also has a strong upside, especially on the offensive end. He's a quality rebounder, can develop into an even better defender, but he needs to improve his shot. He's shooting just 40.2% from the field and 30.3% on three-pointers. Bogut will most likely be bought out by the Sixers.
The Sixers also traded forward Ersan Ilyasova to the Atlanta Hawks Feb. 22. The Hawks sent center Tiago Splitter and a 2017 second-round draft pick via the Miami Heat to the Sixers. The Hawks and Sixers also agreed on a swap of 2017 second-round picks, which ultimately will become the Golden State Warriors' second-round pick headed to Atlanta.
Ilyasova has played for five teams since the summer of 2015 and has been included in four trades. Ilyasova gives Atlanta a sharpshooting power forward who has averaged 14.8 points on 44 percent shooting for the Sixers this season. The Sixers plan to use Splitter, 32, as a mentor for their young centers the rest of the season.