Sanaa Lathan to star in Fox mini-series 'Shots Fired'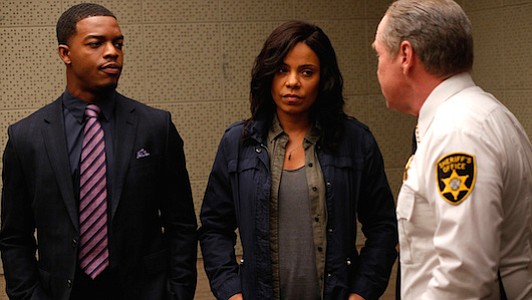 "Love and Basketball" star Sanaa Lathan returns to television in the new 10-hour Fox mini-series "Shots Fired."
Inspired by recent events of police brutality, particularly the shooting deaths of unarmed black men, which led to the #BlackLivesMatter, the series examines the shooting death of a white teen by an African-American cop, Joshua Beck, played by Tristan Wilds ("The Wire") in a small town in North Carolina, and its dangerous aftermath.
According to Fox, Lathan plays Ashe Akino, an expert investigator who digs into the case, alongside a special prosecutor, Preston Terry (Stephen James, "Selma") sent to the town by the Department of Justice. As they peel back the layers, the pair suspects a cover-up that may reach into the highest echelons of North Carolina's government. Together, they must navigate the media attention, public debate and the social unrest that comes with such a volatile case, as they seek justice before the racially divided town erupts.
The socially relevant show is written and executive produced by industry veterans Gina Prince-Bythewood ("Love and Basketball," "Beyond the Lights"), and Reggie Rock Bythewood, ("New York Undercover," "Get on the Bus") with Prince-Bythewood directing.
"Gina and Reggie have crafted a profoundly moving portrayal of a timely and sensitive issue that pervades our culture at this very moment," said David Madden, president, Entertainment, Fox Broadcasting Company. "This is not only an important story to tell, but also an explosive mystery-thriller, and we couldn't be in better hands both with the creative team behind this, along with the very talented Sanaa Lathan leading the cast."
The series' all-star cast includes Academy Award winners Helen Hunt and Richard Dreyfus as well as "True Blood's" Stephen Moyer.
"Shots Fired" debuts March 22 at 8 p.m. on Fox.