South Jersey Black Heritage Museum to hold gala
African American Heritage Museum of Southern New Jersey to Hold 15th Anniversary Gala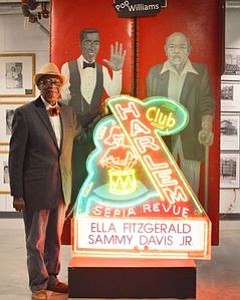 Atlantic City, NJ – The African American Heritage Museum of Southern New Jersey (AAHMSNJ) will close Black History Month with the celebration of its 15 years of operation. The gala event will be held 5:30 p.m. Monday, Feb. 27 at the Noyes Arts Garage, 2200 Fairmount Avenue, Atlantic City, NJ which has hosted the museum's Atlantic City location since 2013.
Fifteen years ago, Ralph Hunter opened the African American Heritage Museum of Southern New Jersey in Newtonville, NJ, but he's been collecting for far longer. The museum started with a discovery in a North Carolina antique shop over thirty years ago. Mr. Hunter found an original edition of "Little Black Sambo" by Helen Bannerman and bought it to take it off the market. He soon realized that putting it on display would have the power of preserving the history of a people. The Dr. Martin Luther King, Jr. Center in Newtonville originally housed the museum collection which now numbers in the thousands. The location in the Noyes Arts Garage of Stockton University in Atlantic City has extended the museum's reach as it continues to bring the stories of the African American experience to life through its exhibits.
Tickets for the gala are $80 per person, which includes parking.
There will be live music, bistro-style dining and cocktails, as well as a silent auction featuring donations from local artists. Guests can also enjoy the latest exhibit, "Buffalo Soldiers," which tells the little-known stories of African American cowboys on the frontier.
The Museum will recognize Stockton University by honoring them with a special award for their support.
For more information, please visit the museum's website at www.aahmsnj.org.